Telecom issued this card to commemorate its sponsorship of the New Zealand International Festival of Arts, held for three weeks in February 1994, in Wellington.
There are two different reverses of this card. One with Telecom Corporation Of New Zealand (1st Back), and the other with Telecom New Zealand (2nd Back).
This card was also included in the Collector Pack AdCards Volume Six NZ-CP-29 and was overprinted on the reverse with Collectors Issue 1994 or International Collectors Issue 1994,
if included in the International Pack.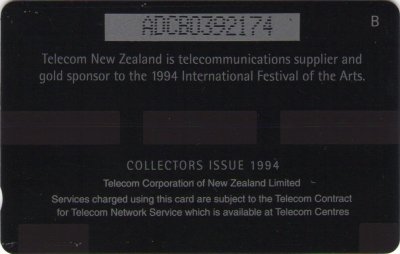 The Collectors card is on the first reverse, while the International card is on the second.
The International card is also available with the 4th back, ADDB.
A Special Encore Festival Folder, illustrated below, was produced by Telecom. It contained the card and had a pouch to hold the tickets for the Festival.