Reference Number

NZ-D-37
NZ-D-38
NZ-D-39
NZ-D-40
NZ-D-41
NZ-D-42
Denomination

$5
$5
$5
$5
$5
$5
Description

Super Marine Spitfire LF Mk IXe
Messerschmitt BF 109G
North American Mustang P-51D
Mitsubishi Zero A6M5-52
Chance Vought/Goodyear Corsair FG-1D
Curtiss Kittyhawk III P-40M
Control Number

ADDB
ADCB
ADCB
ADCB & ADDB
ADDB
ADCB
Quantity

7,250
7,250
7,250
7,250
7,250
7,250

1,900 of these cards were sold in a special signed presentation pack, as illustrated below, with another 450 packs unsigned.
Another version of the pack of 1,000, with a different picture, was produced for sale at the Hamilton Airshow, Easter 1995, illustrated below.

These cards were also included in the Collector Pack AdCards Volume Ten NZ-CP-43 and were overprinted on the reverse with Collectors Issue 1995 or International Collectors Issue 1995,
if included in the International Pack.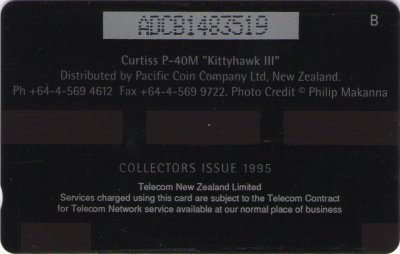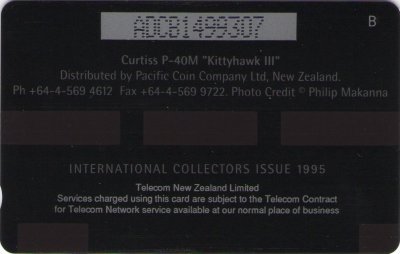 Reverse of the normal cards