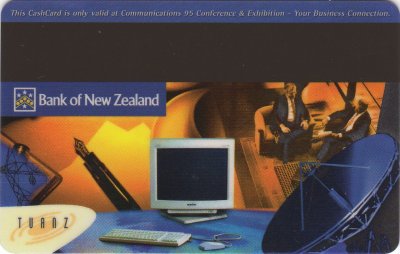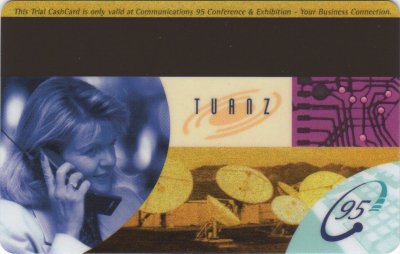 Reverses of the two cards.
These two cards were the first Smartcards introduced into New Zealand. The chip held $5 worth of value for delegates at the conference to use in vending machines or Credit Card Telephones.
The reverse had a magnetic strip which contained the delegates details for swiping through a card reader at each of the Exhibitor's stands. 2,000 of these were given out to delegates.
The other 5,500 were used by BNZ & Telecom for promotional purposes. Telecom gave theirs away in a folder, illustrated below, to purchasers of their Phonecard Catalogue.
The card issued in this folder is different to the original, as it had a sequence number overprinted on it, see below.