Reference Number

NZ-P-20
NZ-P-21
NZ-P-22
NZ-P-23
NZ-P-24
NZ-P-25
NZ-P-26
NZ-P-27
NZ-P-28
NZ-P-29
NZ-P-30
NZ-P-31
Denomination

$20
$20
$20
$20
$20
$20
$20
$20
$20
$20
$20
$20
Description

Rob Andrews
Grant Burtenshaw
Paul Elliot
Brent Ellison
Jim Finnigan
Bob Gill
Garrie Hoddinott
David Howell
Mike Morrow
Jenny Nixon
Philippa Turley
Simon Yates
Control Number

ADCD (1) & (2)
ADCD (1)
ADCD (1) & 1NZPC
ADCD (1) & 1NZPC
ADCD (1)
ADCD (1) & (2)
ADCD (1)
ADCD (1)
ADCD (1) & 1NZPC
ADCD (1)
ADCD (1)
ADCD (1) & 1NZPC
Quantity

4,250
4,250
4,250
4,250
4,250
4,250
4,250
4,250
4,250
4,250
4,250
4,250

Telecom released another set of Business Cards in 1994. The twelve cards are for the key people working specifically around the Phonecard product.
The ADCD control numbers have two printings, the first (1), the last line, starting "for Telecom" ends with "at Telecom Centres". On the second (2) it ends with "at our normal place of business".
Some cards, as indicated 1NZPC, were printed on left over blanks from the Antarctic Series, and these have Telecom Corporation Of New Zealand Limited on the reverse.
4,000 cards were included in the Collector Pack NZ-CP-26 and were overprinted on the reverse with Collectors Issue 1994. There is no International Pack.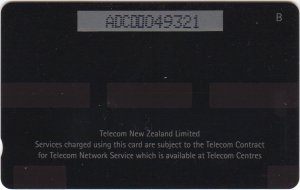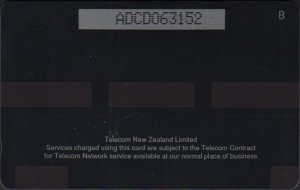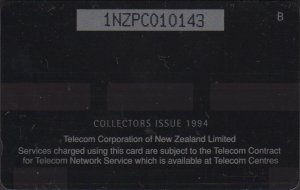 First (1) reverse Second (2) reverse 1NZPC reverse
The other 250 of each card were used by the various personnel and are without the Collectors Issue overprint on the reverse. These are very hard to find.
I have three of them. They are the Mike Morrow, Rob Andrews & Brent Ellison cards, I also have their actual cardboard business cards, shown below.