650 of this card was sold in a special presentation pack, called the Gallery Edition.
350 were in a Masters Premier Edition.
500 were held by Telecom for release in a special folder, like the previous 5 in the collection, but this never happened,
so there was supposed to be no Collectors Issue version of this card released.
The Collector Issue cards were prepared and supposedly destroyed as no folder was issued. As can be seen below, not all were destroyed.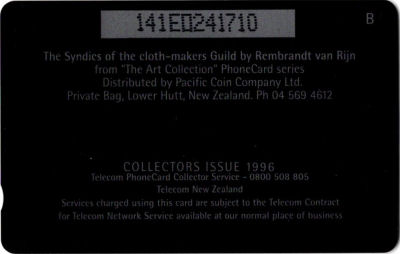 The Gallery Edition was a large black satchel, illustrated below, that contained spaces to place the six cards in this series, each in their own gold frame.
There was also a replica print of the Master contained on each card.
The Masters Premier Edition was even more impressive, with rimu framed replicas and gold plated plaques.