1976 Round 1
Pukekohe

Round One: PUKEKOHE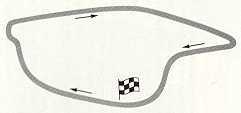 23rd New Zealand Grand Prix
Not unexpectedly, New Zealand's prestige race, the New Zealand International Grand Prix attracted a healthy entry of 16, although two, Graham Baker and Gary Love, both with Begg F5000's, did not appear. The only car to start the race, which wasn't a F5000, was the Fred Opert two-litre Chevron B29 BMW, to be driven by twice winner of the American F5000 series, Brian Redman.
The Pukekohe circuit was set up with two chicanes as arranged for the 1974 and 1975 races. During practice, Ken Smith finally overcame the handling difficulties he'd been experiencing with his Lola T332 by fitting a set of new tyres. He immediately slipped from hard-fought 62s to a 61.4s front row grid time. Graeme Lawrence had secured pole with a 60.9 sec lap in his Lola T332, while Max Stewart worked hard in his Lola T400 at whittling his best down to 61.7s for third fastest. The next two drivers, John McCormack and Bruce Allison, were more than a second away from Stewart, both on 62.8 seconds. Redman was credited with a 63.0 sec best lap, much to the surprise of the English-born driver. Even his team didn't recall clocking him at that sort of a time. Murdoch recorded 63.1s and Bartlett 63.4s. Calgher and Hughes did 74.2s and 74.6s respectively and officials considered this too slow to be permitted a start. Therefore only 12 cars actually faced the starter, making it one of the smallest-ever grids in a New Zealand Grand Prix.
Drivers had been warned that anyone missing out a chicane would be penalised three seconds. This was brought about after constant missing of the chicane by drivers during the 1975 race.
Smith shot across Lawrence's Lola into the lead from the rolling grid, hotly pursued by Stewart, McCormack, Allison, Lawrence, Bartlett and Murdoch. Redman, aware of the three second penalty he could incur, rocketed past seven cars through the chicanes to take the lead in his two-litre Chevron. With the penalty applying, he still had a very handy lead. For two laps Brian was leader in the Grand Prix, he'd had his bit of fun.
Stewart was now leading, having passed Smith on lap 2 and the flying Chevron a lap later. On the fifteenth lap. Smith was relegated to third place as Lawrence slipped through to take up second, running seven seconds in arrears of the Sharp car. On lap 8, Booth was already being lapped and Edmonds had an off at the Esses, needing to pit to have the nosecone fixed.
Lawrence was lapping quickest in the race and was reeling in Stewart as McCormack pitted the Elfin with a puncture in his right front tyre. The twice winner rejoined the race in eighth place, at a rapid rate but had a lose on lap 20, bending the front suspension. He pitted to have it fixed as best as possible, continuing the race a number of laps down.
Three laps later, Lawrence shot past Stewart down the back straight and into the lead. In third was still Smith, followed by Allison and Bartlett. The whole aspect of the race changed as the leading group came around to complete their 28th lap. Both Lawrence and Stewart headed for the pits and Smith flashed past into a 25 second lead over second driver Allison, driving his Lola T332. Lawrence's Chev engine was suffering from broken valve springs, while Stewart had a puncture. Stewart returned to the track, but only did one more lap and returned to the pits with an oil trail following him. He had a creased sump, caused by a misplaced jack being used to change the wheel.
The racing was over except for the continuing Bartlett / Redman dice, which was still raging when the chequered flag fell for Ken Smith. Bruce Allison drove a good race to take second place. Ken Smith became the first resident New Zealander to win the New Zealand International Grand Prix since it commenced back in 1954. The only other New Zealanders to have won the prestigious event were Bruce McLaren and Chris Amon.
23rd New Zealand Grand Prix
Date: 4th January 1976
Venue: Pukekohe
58 laps of 2.816kms (163.33kms)
Result
Driver
Nat
Car

Laps

Time
1

Ken Smith

NZ

Lola T332 / Chevrolet

499

5

cc

V8

58
6

1

m

42

.

5

s
2

Bruce Allison

Aust

Lola T332 / Chevrolet

499

5

cc

V8

5

8

62m 02.0s

3

Kevin Bartlett

Aust
Lola

T400 /

Chevrolet 4995cc

V8

5

7

4

Brian Redman

UK

Chevron B29 / BMW 2000

cc

4cyl

5

7

5

Jim Murdoch

NZ

Begg 018

/ Chevrolet

499

5

cc

V8

5

6

6

Paul Bernasconi

Aust

Lola

T400 /

Chevrolet 4995cc

V8

55

7

Baron Robertson
NZ
Elfin

MR5 /

Repco 4994cc

V8

48

8

John McCormack

Aust

Elfin

MR6 /

Repco 4994cc

V8

48

9

John Edmonds

Aust

Elfin

MR5 /

Repco 4994cc

V8

43

10

Robbie Booth

NZ

Katipo M70

/ Ford

49

40

cc

V8

40

Ret

Graeme Lawrence

NZ

Lola T332 / Chevrolet

499

5

cc

V8

29

Engine

Ret

Max Stewart

Aust

Lola

T400 /

Chevrolet 4995cc

V8

29

Oil Loss

DNQ

Ross Calgher

NZ

McLaren M4A / Cosworth 1840cc 4cyl

DNQ

Peter Hughes

NZ

Brabham BT29 / Fiat 1600cc 4cyl

DNA

Graham Baker

NZ

Begg FM5 /

Chevrolet 4995cc

V8

DNA

Gary Love

NZ

Begg FM4 / Chevrolet

499

5

cc

V8
Fastest lap:

Graeme Lawrence

, 6

1

.

4

sec

(Record)

.