1971 Season

THE 1971 SERIES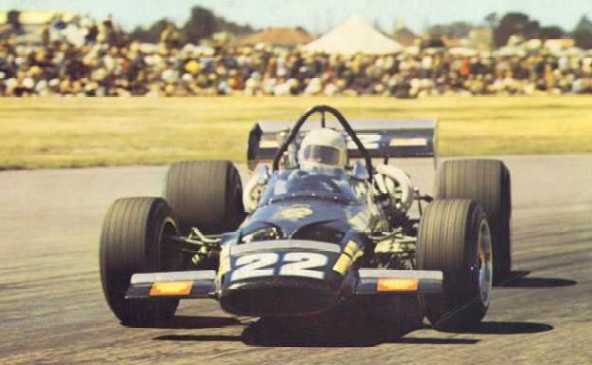 Tasman Champion Graham McRae in the Chevrolet powered McLaren M10B.

Although Graeme Lawrence confounded the prophets by winning the 1970 Tasman title in the ex-Amon Ferrari 246, it was clear before the end of that series that pure racing engines, modified to comply with the original 2.5-litre Tasman Formula, were really no match for the 5-litre stock block, pushrod V8s. Nevertheless, the racing engines, long the mainstay of Antipodean international events, were granted a reprieve for 1971 and under the prize money and minimum guarantee systems the door was left open for hopeful 2.5-litre adherents to risk their reputations and their finances if they so wished. The door will remain ajar to admit 2 litres for 1972 but it is unlikely that anyone with serious Tasman intentions will be foolhardy enough to cross the threshold.

Each of this year's seven races was won by an A/5000 car, six of them Chevrolet powered, the other propelled by the promising new Holden-based Repco engine. The A/5000s took 33 of the 42 points scoring places. McRae won the title with 35 points to the 31 of Frank Matich and 27 of Niel Allen. All were McLaren M10B-mounted. McRae and Allen used Chevrolet engines and Matich the Holden-Repco. Not unexpectedly, in the light of his 1970 showing, Lawrence was the most successful 'outsider' in the three-year-old Ferrari, but he finished seventh on the ladder with a meagre nine points.

Benefiting from a Northern Hemisphere season of racing and development, the A/5000 cars were faster and a little more reliable than they had been in 1970. New race and lap records were common. Just how much faster they were is evident from race qualifying times. With the exception of Surfers' Paradise, a poorly supported event because it was staged a week later than the scheduled end of the series, the average time for the top ten qualifiers in each race showed significant improvement, particularly in New Zealand: 1.75 sec better at Levin; 2.62 at Pukekohe; 2.19 at Wigram; 2.26 at Teretonga Park; 1.01 at Warwick Farm; 1.71 at Sandown Park.

To emphasize the superiority of the A/5000 engines, and to show how they improved between the '70 and '71 series, it is relevant to examine qualifying times in detail:

Lawrence in the Ferrari was fastest 1970 Levin qualifier with 45.7 sec; this year McRae went 44.1 sec for pole position and was followed by Allen (44.4) Matich (44.7) and Amon (March 701 Cosworth-Ford V8, 44.9). Headed by Allen (56.9), nine drivers at Pukekohe ran inside Matich's 1970 pole qualifying time of 59.25 sec. At Wigram in 1970, Matich ran 1 min 18.2 sec for pole position; this year five drivers, headed by McRae (1:17.0), were inside that figure. McRae won pole position at Teretonga Park with 57.9 sec last year; this time Matich (56.0) headed ten other drivers who improved on the 1970 mark.

Lawrence notched 1 min 24.9 sec at Warwick Farm last year. This time only Matich (1:24.4) and Frank Gardner (Lola T192 Chev, 1:24.5) improved on that figure; but in fairness it must be added that the lap record, set by Matich in the 1970 Australian Grand Prix in the same car, is 1 min 24 sec, and the best Gardner could manage in his only winning Tasman drive this season was 1 min 25.1 sec.

Matich and Allen shared fastest qualifying lap, 64.1 sec, at Sandown Park in 1970; Allen improved to 62.8 sec for pole position this year and was followed by McRae (63.0), Matich (63.2), Gardner (63.5), while Teddy Pilette in the VDS McLaren M10B Chev was fifth (63.8).

The advantage of the A/5000 cars also becomes apparent when the 1970 qualifying times of Lawrence, the most prominent racing-engined performer, are compared. Levin, where he was quickest in 1970, must be discounted because he did not appear for qualifying runs. For the other races the record, with last year's times in parentheses reads: Pukekohe, 58.5 (60.1 57); Wigram, 1:19.7 (1:21.8); Teretonga Park, 57.6 (58.4); Warwick Farm, 1:25.1 (1:24.9); Sandown Park, 64.5 (65.5); Surfers' Paradise, 68.7 (69.3). So, generally speaking Lawrence performed much better this year - most likely because of experience gained in aggressive Can-Am racing - but was unable to defeat the 5-litre opposition.

To satisfy statisticians: the 1971 series gave Chevrolet engines 24 scoring places, Repco 5 and Ford Boss 4. For racing engines the figures were Ferrari 4, Waggott 3 and Cosworth-Ford V8 2. By makes the scoreboard read: McLaren 20, Lola 6, Lotus 70 4, Ferrari 4, Mildren-Waggott 3, Mildren-Chev 2, March 701 2 and Surtees TS8 1.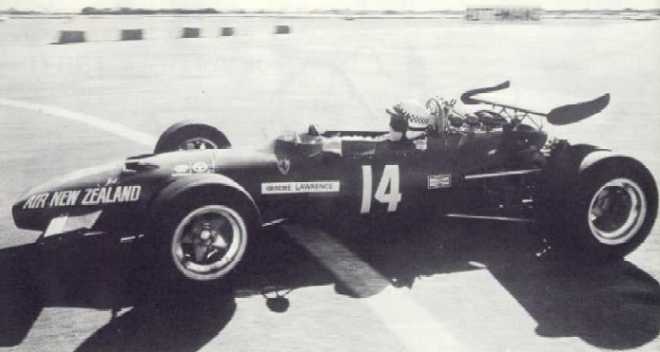 Graeme Lawrence (Ferrari).
On paper the Tasman entry looked the strongest to date. Pre-series publicity indicated at least a dozen front-runners, as well as several second-stringers who, given some luck, looked mildly contentious. This was not borne out in fact. The seven races were dominated by McRae, Matich and Allen, at least two of whom were in the first three places everywhere except at Warwick Farm. On this Sydney circuit Gardner, whose sole New Zealand placing had been a Wigram fourth, retrieved his reputation by breaking McLaren domination and putting the Lola in the victory circle. A week later he ran second to Matich at Surfers' Paradise.
Amon, who frankly admitted he had under-valued Formula A/5000 and chosen a loser for STP in the March 701, drew deeply on his reserve of expertise to place this meticulously presented but ineffectual weapon third at Levin and fifth at Wigram. With STP's hastily-acquired and somewhat suspect Lotus 70, the New Zealand international came briefly into the limelight with a second at Warwick Farm and managed to stay out of the shadows by running fourth at Sandown Park. Pilette, a Formula A/5000 tyro, profited from experience on the track and advice in the paddock to notch a Sandown second at his final Tasman outing. Lawrence's best was at Wigram third - his first finish on the power-driving circuit in eight starts - and Kevin Bartlett claimed the same place with the Mildren-Chev at Warwick Farm. To summarise, eight of the fifteen drivers who made the scoreboard recorded a third place or better in the course of the series.
Of those who did score, only McRae, Matich, Allen and Lawrence contested all the races. A Ford commitment in South Africa kept Gardner away from Levin and his team-mate Malcolm Guthrie did not show up either. Amon's Matra-Simca engagement (a winning one) in the Buenos Aires Formula 1 race kept him away from Teretonga and he did not go to Surfers' Paradise.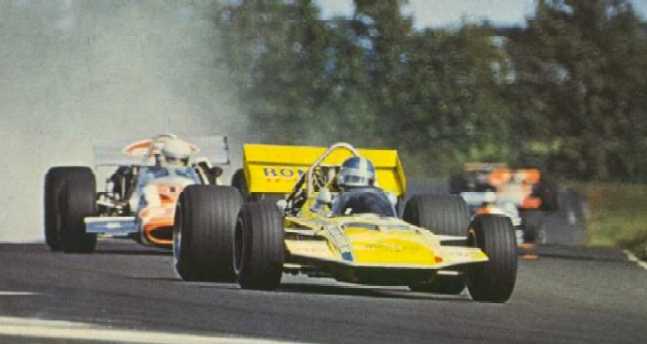 Mike Eyerly (Surtees TS8) heads John Cannon (McLaren M10B).
Pilette and Bartlett ran everywhere but Surfers', business elsewhere claiming the Belgian and a training session crash leaving the Australian without a mount. English-born John Cannon, 1970 American Formula A champion, wrote off the Carl Hogan McLaren M10B Chev during Sandown Park qualifying, but did six of the seven rounds, thanks to STP who put him in the Lotus 70 at Surfers' Paradise. David Oxton, who started with a promising Levin fourth in the Lotus 70, was left up in the air when the car was acquired by STP for Amon before Pukekohe. Oxton drove the March at Pukekohe, and was first New Zealand finisher, in seventh place, at Teretonga Park, after which the car was shipped back to the United States.
American Formula B champion in 1970, Mike Eyerly ran at Levin and Pukekohe, crashed on the warm-up lap at Wigram, made good the damage, ran ineffectually at Teretonga Park, and then wrote off the Surtees TS8 in training at Warwick Farm. Bob Muir (Mildren-Waggott) and Keith Holland (Lotus 70 Ford Boss) confined themselves to the Australian races, and Leo Geoghegan did both South Island Tasman races and Warwick Farm.
Among those who did not reach the scoreboard was Frank Radisich, who set out to do all the races with his McLaren M10A Chev and would have succeeded if a training crash had not left him spectating at Sandown Park. But he did have the satisfaction of winning the final New Zealand Road Racing Gold Star round at Timaru on the Saturday after the last New Zealand Tasman race. Lawrence, who drove the Fred Opert Racing Brabham BT29 FVC, run by American Evan Noyes in the Tasman series, finished second to Radisich and clinched the national single-seater championship, thereby fulfilling another of his motor racing ambitions.
Don O'Sullivan, Matich's team-mate, terminated a rather weak Tasman offensive when he wrote off his Repco-powered McLaren at Teretonga Park. Even less successful were Americans Bob Brown and Richie Galloway. Brown wrecked Galloway's T190 Lola in a pre-Tasman test session at Pukekohe. Galloway reciprocated by bending Brown's Lola at Cabbage Tree Bend in the early Levin qualifying session. It was fixed in time for Brown to use at Pukekohe and Wigram. In turn, one of motor racing's slowest accidents, a gentle nudge into the pit safety barrier during Teretonga training, caused damage that was repaired in time for Galloway to get the car to the Warwick Farm grid from which the car refused to move. He finally crashed it in the Sandown race.
Most frequently seen of the remaining contenders were Noyes with the Brabham and Dave McConnell, who turned up from Vancouver with a well-presented Lotus 69B which ran early on with a Ford twin-cammer and later with an FVC engine. Neither was in the hunt against multi-cylinder opposition, but both drivers, out to gain experience, put in some attractive performances, Noyes qualifying at Pukekohe at more than 100 mph. Noyes did all the New Zealand races and Warwick Farm, while McConnell ran everywhere in New Zealand except Teretonga and made the Surfers' race in Australia after being relegated to a minor event at Warwick Farm, as he was not considered competitive enough.
In New Zealand, the residents Ken Smith (Lotus 69 FVC), Dexter Dunlop (McRae Ford S2), Cary Taylor (Brabham BT21C t/c), Baron Robertson (Brabham BT23C FVA), Geoff Mardon (Begg FM4 Chev) and Neil Doyle (Begg FM2 Chev) helped to swell the fields. In Australia Max Stewart (Mildren-Waggott), Len Goodwin (McLaren M4A FVA), John McCormack (2.5 Elfin Repco V8), Alfredo Costanzo (McLaren M4A FVA) and Col Green (2.5 Brabham BT16 Climax) made some appearances. In return for their enthusiasm they were rewarded with some racing mileage, which is more than New Zealander Bryan Faloon obtained from the ingenious 2.2 litre flat-eight Rorstan Porsche.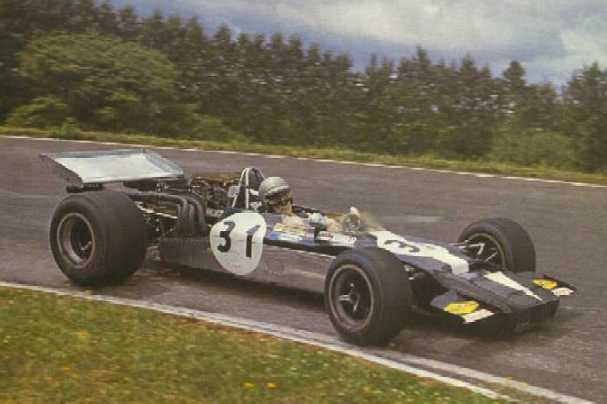 Frank Gardner (Lola T192).

When entries closed for the opening race at Levin the odds favoured a McLaren championship win, for there were eight M10s, not all uniform in specification, on the list, the next most popular marquee being Lola: the original T192 was in Guthrie's hands and the later version Gardner's. Additionally, there were the Galloway and Brown T190s, only one of which was to see the action. Eyerly had the attractive Surtees TS8 which looked better than it went.

For those motor racing fans whose interest centres on design and mechanical aspects rather than the outcome of the contest, there was some absorbing material in the Tasman paddocks. Rothmans Team Matich, Holden and Goodyear sponsored - with a mobile workshop, engine specialists as well as general mechanics and tyre experts, and Matich and O'Sullivan in the hot seats - attracted a great deal of attention. This team was breaking new ground with the Holden-based Repco engine for most of the A/5000 opposition was Chevrolet-powered.

An output of 450 bhp at 7000 rpm was said to be the claim for the Holden-based V8, compared with an average of around 475 for the various Chevrolets, and a reputed 500 bhp for the Boss Ford 302s in the Lotus 70s, this estimate being rather liberal if judged by individual performances. The Holden-Repco is Australian in conception and execution. Basically, it is the 350 cubic-inch (5.7 litre) production engine, destroked to 302 cubic inches (4940 cc) with the original production crankshaft retained. With Phil lrving and Brian Heard in the design and development team, it is not surprising that the engine has some of the features of the World Championship winning 3-litre Repco Formula 1 engine, more than 150 Repco designed special components being incorporated. Lighter than the original Chevrolet engines used by Matich, through use of many magnesium and alloy castings, it features lightweight valve gear, an eccentric pivot instead of an adjuster taking care of tappet clearances, and a Lucas 8mm metering unit in the fuel injection system, activated by a gear-driven drive which also serves a high pressure fuel pump and twin-point distributor. Injectors mounted in cast magnesium inlet tracts and magnesium throttle slide carriers on needle roller bearings, as well as dual coil Bosch ignition, are features that betray Formula 1 Repco heritage. The metering unit and pressure pump can be installed at either end of the engine, something that could be a good sales feature if, as seems likely, various other constructors decide that the Repco-Holden has the edge on the wide variety of modified Chevrolet engines which, up to now, have been the mainstay in A/5000 racing.

The Australian engines proved to be remarkably reliable. Matich did the Australian Grand Prix, the New Zealand races and Warwick Farm on one engine without apparent concern, the let-down at Warwick Farm being attributed to electrical troubles. For Sandown Park a new engine, said to give between 500 and 510 bhp was fitted. Although a rocker broke during qualifying, the car turned out to be very quick and would have given Matich this race had it not been for last lap fuel starvation.

The Guthrie Racing

Lola's and Pilette's Team VDS McLaren M10B were fitted with the well-known Chevrolet variations prepared by Louis Morand in Switzerland and were on carburetors. Allen, Cannon, Eyerly, Brown and Galloway had Bartz Chevrolets, those of Allen and Cannon being fuel-injected, while the Chevrolet used in Mildren Racing's Franklen-Palliser had been doctored by Australian Merv Waggott. McRae, who started the series with one engine, which went sour on him after his Levin and Wigram wins, borrowed Morand Chevrolets from the Belgian team for Pukekohe, Teretonga and Surfers'. A dropped valve caused serious internal damage to the Wellingtonian's only engine during Pukekohe training and mechanic Murray Charles had to re-work a piston to 'mate' it with the other seven for Wigram and then to do the same thing again when another original piston defaulted at Wigram. In Teretonga training the crankshaft broke and for Warwick Farm Charles built up a new Bartz engine, which suffered from imbalance at Sydney and more serious troubles at Melbourne where McRae nursed it home almost bereft of oil and water.

STP's March 701 was powered by a destroked Series 10 version of the Cosworth Ford V8 which, as it lacked the more recent timing gear dampers, meant that Amon and Oxton were limited to a 9750 rev limit. Amon, whose experience of the Cosworth product in regular 3-litre Formula 1 form is limited, confessed himself surprised to find that the shrunken engine lacked the wherewithal to pull the skin off a rice pudding. The Lotus 70, owned by Lotus Racing Ltd, until STP took it over after Levin, was powered by Falconer and Dunn's version of the Ford Boss and ran on carburetors. In a first flush of enthusiasm, Amon, no doubt with memories of the suspect handling and torque-lacking March 701 fresh in his mind, was ecstatic about the Lotus 70 at Pukekohe. Subsequent events dampened his spirits.

Some people would modify the Taj Mahal if they had the chance. The strong McLaren Tasman entry illustrates the point. Allen tried his car with engine lowered and altered suspension pick-up points in Australia, but decided that the original recipe was better. Apart from having the oil tank fitted under the seat, his car was virtually standard. Pilette, a newcomer to this sort of racing, placed his faith in the maker for everything except tyres: instead of running on Goodyear he opted for Firestone until Allen, before Teretonga, suggested that a return to original equipment rubber might produce more satisfactory results. It did.

McRae, who is no slug when it comes to cobbling up a racing car and has access to the wits of Murray Charles, came to the Tasman party with a McLaren M10B far removed from the original concept. A gusset between bellhousing and gearbox added three inches to the wheelbase, the drive being carried by an input shaft made up by Hewland. The engine was fixed lower than standard and suspension pick-up points altered to provide camber angles which, it was claimed, provided better traction and road-holding. Careful attention was also devoted to weight paring. A 7 lb rear wing, braced by a few wire strands and given to popping its rivets, replaced the standard 20 lb McLaren wing.

Team Matich also tried out some ideas that had not reached McLaren drawing-boards. Like the McRae car, the team's modified M10As were three inches longer in the wheelbase, the extra length being achieved by moving the front suspension points farther forward. This modification, unlike that of McRae, did not transfer a substantial part of the weight nearer the middle, although Matich reckoned it improved handling. Unlike the other McLarens, which had 15-inch wheels all round, the Matich cars had 13-inch front wheels with smaller Girling disc brakes, ventilated by trumpet-like coolers; the standard McLaren M10B has larger Lockheed discs which are compatible with the 15-inch wheels. Cannon's M10B had its engine mounted lower behind the monocoque, but one of his problems was that the bellhousing had been machined incorrectly so that the suspension was down on the right, just as if the monocoque had been bent out of shape by about a quarter of an inch.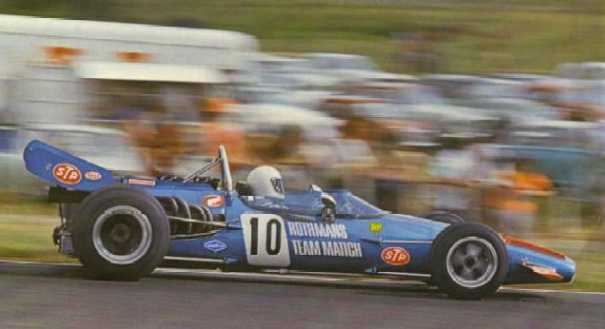 Frank Matich (McLaren M10B).
In a way, Eyerly had a similar problem in that, until the trouble was diagnosed before the Teretonga race, the Surtees TS8 ran in a state of variable imbalance. The trouble was found to be caused by almost infinitesimal movement between the engine and its mounting plate at the back of the monocoque section. This movement was, of course, greatly amplified at the rear wheels, which made the car an unpredictable handful for the American Formula B champion.
When compared with the T190s of Galloway and Brown, the Gardner and Guthrie Lola T192s were recognisable as entirely new models. Guthrie's car was one of the original T190s, but lengthened in the wheelbase by 9 inches. Gardner's, built from scratch as a T192, was an inch longer, fitted with knock-on wheels and had a number of other modifications, including specially rated front coil springs, word about which the dry expatriate Australian kept to himself - the news came out after a souvenir happy Pukekohe patron made off with one when a front wheel and suspension unit detached itself from the rest of the car in Gardner's collision with Matich.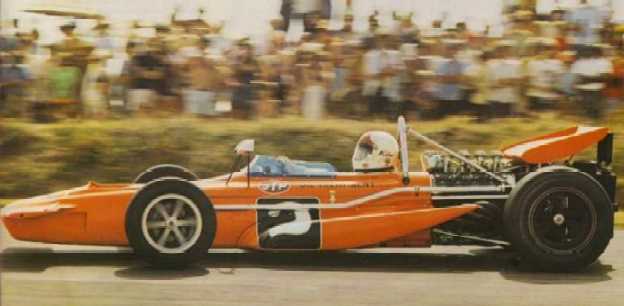 Chris Amon (March 701). The car was also driven by David Oxton.

STP's March 701 was the glamour entry but, as with many another starlet, looks were not matched by performance. This was the No 3 March chassis which Mario Andretti used until he bent it in the Austrian Grand Prix. It was undoubtedly the best presented car in the series and was a far cry from the original March, particularly in the rear suspension. Lower reversed wishbones, with repositioned radius arms, replaced the usual parallel bottom links and the top links were also new. Altered front suspension pick-up points changed the roll centre. According to the Granatelli camp, these modifications improved road-holding and traction and kept the car on a more even keel under braking and acceleration. Amon did not publicly express an opinion.

Alec Mildren's Chevrolet-powered car for Kevin Bartlett was a monocoque that, in many respects, was a grown-up version of the familiar Mildren-Alfa. This was not surprising because Len Bailey, aided by Gardner, laid down the design for the Italian-engined car and the same team was responsible for the A/5000 design. It was a very workmanlike machine. Bartlett, at Levin, reckoned it a first-class handler, but as the series progressed and niggling troubles kept appearing his enthusiasm waned.

The Lawrence Ferrari, which helped Amon to the Tasman title in 1969 and the Hamilton driver again last year, was in standard shape and it looked most promising at Levin where Lawrence rushed up through the field in meteoric style, but then in the dying laps he collided with Radisich's ex-McRae McLaren M10A at the exit to the hairpin. It was at Teretonga that the trusty Dino VG engine for once let down the side when a piston broke as Lawrence was running sixth.

The more interesting New Zealand entries deserve mention, even though they did not figure in the international races. Southland constructor George Begg produced an entirely new monocoque FM4 at Wigram. With a 100-inch wheelbase, it was the same length between the hubs as the McRae and Matich McLarens and, naturally enough, had a number of other McLaren features. Front and rear uprights were McLaren M10A and there were Lockheed disc brakes and 15-inch McLaren wheels. Side-mounted fuel tanks in the

riveted monocoque and exterior water pipes served a semi-stressed engine and transmission. The bottom wishbones of the rear suspension were attached to a plate beneath the Hewland DG300 gearbox. The Chevrolet engine, on carburetors, was modified by Morrie Stanton who knows what he is about in this department.

Technically the

Rorstan-Porsche was an interesting exercise, even if it did not run a race lap. Sydney's Bob Brittan designed the chassis, which is a spaceframe incorporating portions of the original Climax-engined lightweight Rorstan. A tubular section over the engine substitutes for more usual top rails, the engine being a partially stressed member. Suspension is by coil springs all round, with angled links in front and wishbones at the rear. The sports-racing 2000 cc flat-eight engine is said to develop 282 bhp, and drive is through a normal five-speed road-going Porsche gearbox.

Liberalisation of the Tasman Formula has shown New Zealand and Australian motor racing followers that their top drivers have an approach more akin to that of the European professionals than the North Americans who, even if they consider themselves otherwise, convey the impression that they are amateurs.

Vince Granatelli's STP team was professional, with all the outward trappings, and efficient personnel. But the whole operation appeared naive, and, to budget-conscious locals, an inordinate amount of money seemed to be used to shore up a ship which should never have been launched and was bound to founder. The limited amount of success enjoyed stemmed from the skill and enthusiasm of team members and the undoubted ability of Amon. Ron Grable, who did the Tasman series last year, after winning at Bay Park Raceway in 1969, still impresses as the most professional North American of the Formula A/5000 era to race in this part of the world. This year's batch, like last year's (Grable excepted), seemed to take the whole affair too lightly.

Cannon, undoubtedly competent, showed brief flashes of the form that earned him the 1970 Formula A title. But neither he nor Eyerly, the Formula B champion, posed a threat at any stage. The Galloway-Brown camp was as colourful as it was ineffectual and had little more than curiosity value. Noyes and McConnel

l came to learn and obviously benefited from the experience. Although uncompetitive, compared with the real Tasman contenders, they turned in some impressive performances and commanded more respect than some of their compatriots.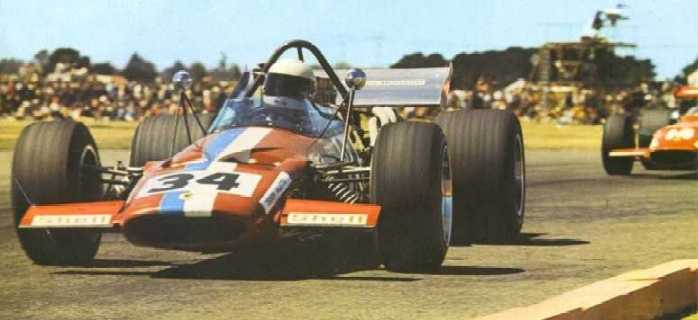 Teddy Pilette (McLaren M10B).
Belgium's spruce Teddy Pilette probably gained more from this campaign than any other visitor. His background is classic European sports car racing, but he settled into his lusty open-wheeler and showed marked improvement race by race. His friendly disposition won sympathy from McRae and Allen and he profited from their advice. His second spot at Sandown Park, albeit a lucky placing, was a just reward and must have heartened his patron, Baron van der Straten, who had obviously set his heart on making a good Team VDS showing and certainly succeeded.
Gardner is an old hand in the Tasman game, although his efforts have not met with the success they deserve. This year was no exception. The story might have been different if he had been able to start at Levin, a circuit that suits his temperament and driving style. As things turned out, his tangle with Matich, when handily placed in the New Zealand Grand Prix, seemed to put him out of step and it was not until he reached Warwick Farm that he found his natural gait again. Guthrie obviously profited from his association with Gardner and put in some enthusiastic performances.
Lawrence knew that the odds were heavily stacked against him, but gave all he had and few will forget his Levin drive - certainly one of the highlights of the series - which showed that, given a good A/5000 car, the Tasman Cup is still well within his reach.
Of the men on the way up, Oxton remains the most promising. His Levin effort with the Lotus 70 proved that, and he added further conviction with the March 701 at Pukekohe and Teretonga Park. He, of all the local aspirants, deserves a lucky break.
The highly competent Leo Geoghegan with his Waggott-engined Lotus 59 drove a well-judged race at Teretonga for sixth place to the satisfaction of his many admirers, some of whom have followed his progress since he started as an 18-year-old back in 1953.
Don O'Sullivan, the burly West Australian, took the business more lightly than team boss Matich, but added colour to the New Zealand scene.
The stars were, of course, Matich, Allen and McRae, all highly professional in their approach and fast and smooth on the tracks. From the start it appeared that Allen and McRae would sort it out, but Matich's consistency spoilt Allen's chance of finishing runner-up and the Repco-powered Matich was perhaps unlucky not to become the first Australian Tasman champion for he appeared to have the Sandown race in his pocket. Allen showed up as a driver of talent acquired by mental discipline in contrast to Matich and McRae who, for lack of a better description, could be described as natural drivers. This is particularly so in the case of McRae who, on his day, is the greatest. Perhaps, with a helping of Allen's mental discipline, 'Cassius' would be the greatest on more days. But the fact remains, McRae is the 1971 Tasman champion and he certainly earned the title.
The ever-growing popularity of saloon car racing and the escalating cost of acquiring and maintaining competitive single-seaters have had the effect of lowering the status of the Gold Star racing series. Nevertheless, there is a pool of talent still in this field. Recently introduced Formula C, which appears to have a promising future, has also brought some newcomers to the surface; as they progress they will not be satisfied to confine their activities within the limitations of the new formula. There are exciting possibilities in the proposed Pacific single-seater championship, especially as drivers such as Lawrence, who has performed so well in Malaysia, and Ken Smith and Cary Taylor, have already awakened interest among single-seater drivers in this part of the world. Too many events can be an embarrassment to competitors and promoters alike but more worthwhile single-seater races could give this important branch of the sport a fresh stimulus. No one can deny that the Tasman Championship, irrespective of one's views about the formula, has increased the stature of New Zealand and Australia in the world of motor racing.
Round 1 Levin