1971 Rounds 5-7
Australia

The Australian rounds got off to a bad start, when the Surfers Paradise round scheduled for February 7th had to postponed because the circuit was under water. CAMS gave permission for the race to be run after Sandown. This robbed Surfers of some of the overseas drivers who had overseas commitments and had made arrangements to ship their cars out of the country from Melbourne. As far as the points score went, it wasn't going to make any difference.
Round Five: WARWICK FARM
Rothman's 100
Date: 14th February 1971
45 Laps of 3.620kms (160.9kms)
When the show moved on after the final New Zealand performance at Teretonga, it seemed that Niel Allen (24 points), Graham McRae (22) and Frank Matich (18) were, barring miracles, the only drivers within grasping distance of the Tasman Cup. Next in line were Chris Amon (6) and Graeme Lawrence and Teddy Pilette (5 each). It was unlikely that they or anyone else could still gain top billing but as events turned out in the next act fortunes swayed for the stars and some of the bit players took the limelight.
Drivers who did not make the race included Malcolm Guthrie, who underwent an appendectomy a week earlier, practiced his Lola T192 until the engine block cracked and, to the satisfaction of his medical adviser, involuntarily resumed his recuperation. Mike Eyerly's Tasman trip terminated in training when his Surtees TS8 took charge with a jammed throttle and belted a barrier. David Oxton was left without wheels when Amon, back from overseas Matra commitments, claimed the STP Lotus.
There was a poor crowd of less than 20,000 at Warwick Farm. The disappointed promoters put the poor attendance down to the fact that there were not any big GP names in the line-up. Chris Amon and Frank Gardner were there but they do not have the pull with the local spectators that Jackie Stewart or Graham Hill would have.
During the interval between the four New Zealand rounds and the start of the Australian section, the talk was strong as to who would win the Farm. Some thought Frank Matich would run away with the race, others thought the smaller engined cars of Leo Geoghegan and Max Stewart would show the bigger V8's the way. But no one would take bets as to the outcome.
Even after a closely fought practice session for the front row of the grid no clear-cut favourite emerged. Practice was a hairy affair with many incidents. Even Frank Matich overcooked things in the Esses and wrote off the nose of the McLaren but not before he had set the fastest time for pole. The lay-off had given Frank Gardner time to sort his Lola and he kept Matich honest with a time just one tenth of a second slower.
The battle for the minor places was just as hard fought between Graeme Lawrence, Chris Amon (who had flown in from Europe on the Saturday morning), Leo Geoghegan, Kevin Bartlett, Bob Muir, making his series debut, and Teddy Pilette. All lapped within a second of each other. Series leader, Niel Allen could only manage a disappointing eighth place on the grid with an ill-handling car. The rest of the field, including all of the American drivers, were right out of the picture.
When guest starter, Jack Brabham, dropped the flag, Gardner didn't hang around. With smoke pouring off his rear wheels like a dragster he won the rush to the first corner with Matich and Chris Amon tucking in behind. Matich tried everything to get past Gardner in the early stages but Gardner was too wily and experienced to be forced into error. Each time Matich applied pressure to the Lola Gardner gave the throttle a little extra and opened up a few more car lengths between them.
Chris Amon was content to tag along in third spot with a badly handling Lotus. He had crashed in practice after a suspension failure and the car was rebuilt overnight. He was also suffering from muscle fatigue after his hectic dash across the world to make the race.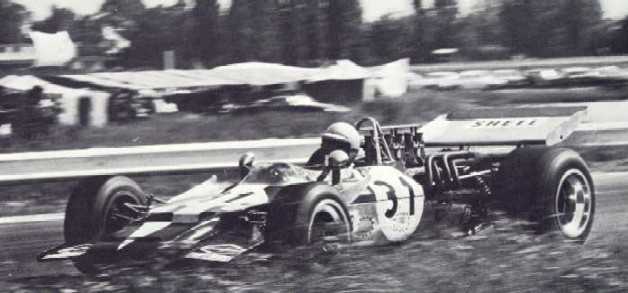 Frank Gardner (Lola T192) on his way to a win at Warwick Farm.
With the leaders running away from the pack the main interest was the battle for fourth place between Kevin Bartlett and Niel Allen. Time after time Allen closed up on the yellow Mildren car under brakes in Creek Corner and hounded Bartlett. Then after about four or five attempts Allen pulled a desperate in Creek and was in front of Bartlett as they headed for the Esses.
Meanwhile Leo Geoghegan parked his Lotus 59 on the side of the circuit with the fire out due to a faulty ignition. But Bartlett decided he wanted fourth place back and very soon was looking straight up Allen's exhaust pipes.
Graham McRae was sitting well back in the field in ninth place. He blew an engine in practice and despite an overnight rebuild it wasn't quite the same as his opponents. And to make matters worse he managed to touch wheels with John Cannon in Polo Corner and both drivers gave the crowd an all round view of their cars.
Up front Matich was still staying with Frank Gardner but his Repco engine had cried enough and expired, handing Amon second place and Allen third. Then Graeme Lawrence decided to make things interesting and blew an oil filter leaving a trail of oil all round the circuit. This was to be Niel Allen's downfall. With Kevin Bartlett on his tail he went too deep into Creek, hit the oil, locked up everything and speared straight off the track. He came back in fourth place but decided to take things easy and just drive to finish and gain enough points to stay in the lead.
Gardner averaged fractionally more than 93 mph for a race record, but his 1 min 25.1 sec fastest race lap was 0.3 sec outside Matich's record in the previous November's Australian Grand Prix. With Frank Gardner winning the race, Frank Matich not finishing and McRae out of contention Allen went to 27 points, McRae stayed on 22 and Matich 18. Both Amon and Gardner were on 12 points as the Tasman Circus headed south for Melbourne's Sandown Circuit.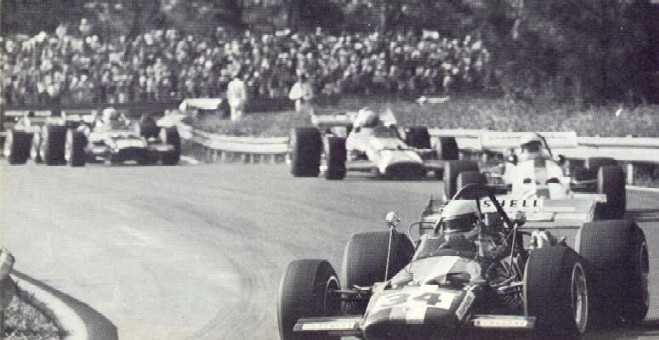 Pilette leads Geoghegan, Cannon and McRae on lap 1 at Warwick Farm.
Result
Driver
Nat
Car

Laps

Time
1
Frank Gardner
Aust

Lola T192 / Chevrolet 4988cc V8

45
65m 18.1s
2
Chris Amon
NZ
Lotus

70 /

Ford 4997cc

V8

45
65m 28.8s
3
Kevin Bartlett
Aust
Mildren

/

Chevrolet 4988cc

V8

45
66m 03.8s
4
Niel Allen
Aust
McLaren

M10B /

Chevrolet 4988cc

V8

45
66m 14.4s
5
Teddy Pilette
Belg
McLaren

M10B /

Chevrolet 4988cc

V8

45
66m 24.8s
6
Bob Muir
Aust
Mildren

/

Waggott 1

992

cc

4cyl

45
66m 26.6s
7
John Cannon

UK

McLaren

M10B /

Chevrolet 4988cc

V8

44

8
Graham McRae
NZ
McLaren

M10B /

Chevrolet 4988cc

V8

44

9
Keith Holland
Aust
McLaren

M10B /

Chevrolet 4988cc

V8

44

10
John McCormack
Aust
Elfin

600B /

Repco 2498cc

V8

43

Ret
Frank Matich
Aust
McLaren

M10B /

Repco 4940cc

V8

Electrical

Ret

Leo Geoghegan
Aust
Lotus

59 /

Waggott 1992cc

4cyl

Ignition

Graeme Lawrence
NZ
Ferrari 246T

/ Ferrari

24

17

cc

V6

Len Goodwin
Aust
McLaren

M4A /

Cosworth 1

598

cc

4cyl

Evan Noyes
USA
Brabham

BT29 /

Cosworth 1850cc

4cyl

Frank Radisich
NZ
McLaren

M10A /

Chevrolet 4988cc

V8

DNS
Malcolm Guthrie
UK

Lola T192 / Chevrolet 4988cc V8

Engine

DNS
Mike Eyerly
USA
Surtees

TS8 /

Chevrolet 4988cc

V8

Accident

DNS
Max Stewart
Aust
Mildren

/

Waggott 1

992

cc

4cyl

DNS
Richie Galloway
Aust

Lola T190 / Chevrolet 4988cc V8
Fastest Lap: F Gardner 1 min 25.1 sec
Round Six: SANDOWN
Rothman's Golden 100
Date: 21st February 1971
56 Laps of 3.102kms (173.712kms)
So Allen went to Sandown Park five points ahead of McRae. Matich, still on 18, was six clear of Gardner and Amon who had retrieved their reputations in Sydney. Matich had most at stake. He needed a win to be in the running for the title. He almost got it. Allen, fastest qualifier in 62.8 sec, led into lap 19 when lack of oil pressure broke his engine. McRae, similarly troubled, took over but was forced to reduce pace and, some 18 laps later, Matich hit the front. But it was not his day. In the closing laps the petrol-starved Repco lost power and in the last lap McRae headed him to scrape home first, while Pilette, with a desperate finishing straight charge, grabbed second.
Poor Matich coasted in ahead of Amon, Keith Holland (McLaren M10B Chev) who had joined the series at Warwick Farm, and Lawrence. McRae, who averaged a record 107.45 mph, had insufficient petrol for a slow-down lap, and an engine bereft of water and oil. How lucky can you be? A 109.65 mph lap record was small consolation for Allen. But there were others who, in retrospect, must have regarded Sandown Park bitterly. Cannon wrote off his M10B in practice. Richie Galloway did the same to his Lola T190 in the race. Gardner and Guthrie ran out of petrol. Bartlett notched his fifth series retirement when the Chevy engine blew in the Mildren car.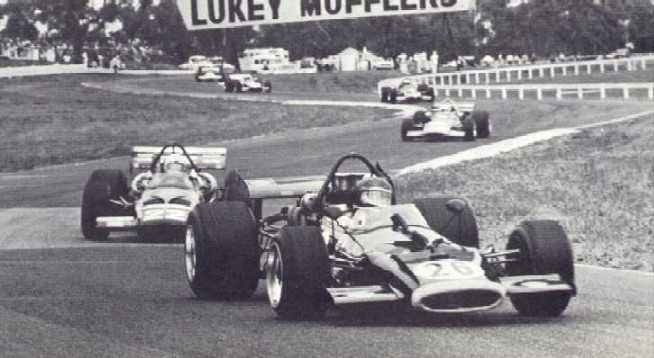 Allen leads McRae, Matich, Pilette and Gardner at Sandown.
Niel Allen broke the two year old lap record to take pole in practice. Graham McRae had found the missing horses in his engine and he joined Allen on the front row with a time just 0.2 sec slower. For once Frank Matich found himself on the second row with Frank Gardner and keeping them honest on the third row was the cheerful Belgian, Teddy Pilette. Pilette had never driven a F5000 car before the Tasman Series and was now coming to grips with his McLaren and showed he could be neat and also very quick.
Leo Geoghegan failed to show, he had only one point on the board and felt his 2-litre Waggott engine would be too slow to stay with the V8s on the long Sandown circuit. One driver described the circuit as a couple of wiggles and two big squirts.
There were some spectacular incidents in practice. Keith Holland lost his McLaren in Peters and began to wonder why he had two crashes in two successive weeks. The trouble was found on the Saturday night as his crew rebuilt the car. One front tyre was slightly smaller in profile than the other. On the car it was impossible to pick, but side by side the difference was very noticeable.
Chris Amon dropped a valve and blew an engine, but was unperturbed. Team boss Vince Granatelli had imported two spare ones from England and the mechanics dropped the spare in overnight. John Cannon had a monumental lose under Dunlop bridge leaving his McLaren in too many pieces to put back together.
On race day the organisers thought it would be nice if the spectators got a close-up view of the drivers and a pace car led the cars, in grid order, around the circuit at about 30 mph, not at all recommended for 160 mph plus racing cars. It was during this parade lap Niel Allen's engine swallowed the stone that was going to side-line him. When the cars reached the starting line Allen blipped the throttle to clear the plugs and the rock lodged itself under the throttle slides.
Allen said later the throttle stuck wide open and he saw 9500 rpm on the tacho before he could switch it off. On the warm-up he called into the pits and his mechanics tried desperately to dislodge the stone, but it crumbled and fell down an injection trumpet into the internals.
When the flag fell Allen won the drag to the first corner and set about opening up a big lead over Graham McRae. On the second lap Allen smashed the lap record and it looked as if no one was going to catch the flying McLaren.
Kevin Bartlett was the first to be sidelined with a blown engine. Then on lap 8, oil started spewing from the top of Allen's engine. The rock had worked its way into one of the bores and was chewing out a piston. Allen managed to keep going until the 20th lap and then his engine cried enough and he coasted up the back straight as McRae took over the lead.
Frank Matich was running in second place with McRae well within his sights and Teddy Pilette was motoring along in a handy third. It was then McRae's turn to have troubles, he lost the oil pressure in his engine and was slowing down. Matich caught the New Zealander and tucked in behind, until Richie Galloway spun his Lola on the Causeway and McRae had to jump on the brakes to miss him. Matich saw an opening and was through to take over first.
With his ailing engine, McRae decided to stay in second and just drive to finish. But Teddy Pilette's engine was running as sweet as a bird and he began to haul in McRae rapidly. McRae gave his car a little extra just to stay in front and then Matich started to slow, he was running out of petrol.
Two laps from the end Matich's engine fluffed and McRae was again the leader with Pilette in second. It was an exciting drag to the finish, McRae with his foot down hoping his engine would last, Teddy Pilette looking for his first win in the series and Matich desperately trying to get past both of them. When McRae pulled into the pits after taking the flag his engine seized never to fire again.
Matich was not the only one to run out of fuel. Team-mates Frank Gardner and Malcolm Guthrie both were towed back to the pits when their Lolas stopped on the last lap out of fuel.
McRae's win took him to the lead with 31 points to Allen's 27 and Matich's 22 and with the final round scheduled for the following weekend at Surfers Paradise it was still an open series.
Result
Driver
Nat
Car

Laps

Time
1
Graham McRae
NZ
McLaren

M10B /

Chevrolet 4988cc

V8

56
60m 29.7s
2
Teddy Pilette
Belg
McLaren

M10B /

Chevrolet 4988cc

V8

56
60m 32.9s
3
Frank Matich
Aust
McLaren

M10B /

Repco 4940cc

V8

56
60m 33.4s
4
Chris Amon
NZ
Lotus

70 /

Ford 4997cc

V8

55

5
Keith Holland
Aust
McLaren

M10B /

Chevrolet 4988cc

V8

55

6
Graeme Lawrence
NZ
Ferrari 246T

/ Ferrari

24

17

cc

V6

55

7
Max Stewart
Aust
Mildren

/

Waggott 1

992

cc

4cyl

54

8
Bob Muir
Aust
Mildren

/

Waggott 1

992

cc

4cyl

54

9
Alfredo Costanzo
Aust
McLaren

M4A /

Cosworth 1

598

cc

4cyl

52

Ret
Frank Gardner
Aust

Lola T192 / Chevrolet 4988cc V8

55

Out Of Fuel
Ret
Malcolm Guthrie
UK

Lola T192 / Chevrolet 4988cc V8

55

Out Of Fuel

Ret

Richie Galloway
Aust

Lola T190 / Chevrolet 4988cc V8

Accident

Bryan Faloon
NZ

Rorstan Mk1a / Porsche 1990 8cyl

Col Green
Aust
Brabham

BT16 /

Climax 2

495

cc

4cyl

Ret
Niel Allen
Aust
McLaren

M10B /

Chevrolet 4988cc

V8

19
Oil Pressure
Ret
Kevin Bartlett
Aust
Mildren

/

Chevrolet 4988cc

V8

7

Engine
DNS
John Cannon

UK

McLaren

M10B /

Chevrolet 4988cc

V8

Accident
DNS
Len Goodwin
Aust
McLaren

M4A /

Cosworth 1

598

cc

4cyl

DNA

Leo Geoghegan
Aust
Lotus

59 /

Waggott 1992cc

4cyl
Fastest Lap: N Allen 1 min 3.3 sec (Record)
Round Seven: SURFER'S PARADISE
Rothman's 100
Date: 28th February 1971
50 Laps of 3.218kms (160.9kms)
Now came the long haul back to the Gold Coast for the final confrontation at Surfers' Paradise. Commitments elsewhere forced Amon, now with 15 points, and Pilette 13 points to scratch, but the rest of the troupe, including Cannon, who was given the STP Lotus in Amon's absence, headed north. The title had to go to McRae on 31 points or Allen on 27. At best Matich could equal McRae's score, but finish behind him on the countback of wins. Gardner 12 and Lawrence 6 were there for the prize money.
Fourteen cars were left in the series for the final round, but only 13 faced the starter's flag. All the Americans had gone home, and Teddy Pilette, having returned to Europe, gave one of his engines to Graham McRae, to replace the one he had ruined at Sandown.
Most of the Surfers' Paradise action happened before the race started. Bartlett damaged the Mildren Chev in a ditch and took on a commentator's job for race day, thus helping to deplete the field to 13. Practice over, the front row was occupied by Matich, fastest at 68.0 sec, Gardner 68.2s and Allen 68.4s. Graham McRae was on the second row with Graeme Lawrence and John Cannon. But even before they lined up there was trouble. Scrutineers claimed that Gardner's Lola T192 had too much aerofoil area because of the wings behind the front wheels. Gardner disagreed. The Lola was pushed from the grid but returned re-trimmed. The car was perfectly legal for Warwick Farm and Sandown, but not for Surfers Paradise.
The organisers also insisted on a three-three grid formation, unlike the two-two used everywhere else. Poleman Matich complained about the condition of the piece of track allotted to his Repco-powered M10B. Gardner and Allen refused to move over to give him ground to his liking. Eventually Gardner swapped places to enable Matich to become a probably unique mid-row top qualifier. This switch gave Matich the advantage he wanted and, arguments over, and a half-hour delay in the start time, he shot to the lead he was not to relinquish.
Without his wings Gardner wasn't going to try and stay with Matich and Niel Allen took over second with McRae tucking in behind Gardner. On the third lap things looked bad for Allen who needed a win at Surfers to clinch the series. His Chev engine started to steam and he pulled into the pits. His pit-crew could do nothing to fix it and he was out again almost immediately. A lap later he was side-lined with a burst water hose and out of the race. It was a sad disappointment for the young Sydney driver who put so much effort into the series and looked to be sitting pretty until bad luck struck at Sandown, this was the last straw.
The race was an unfortunate finish to the otherwise excellent series. Matich continued on his merry way, Gardner was running second and McRae, with an engine running on seven cylinders, was content to finish third. The only highlight of the race was the dice between Graeme Lawrence and John Cannon. Lawrence would close up under brakes on the big Lotus and hound Cannon on the tight sections of the circuit. But on the long straight Cannon's extra power would put two or three car lengths between them.
The dice continued until Cannon pitted with a flat front tyre. It was the quickest tyre change ever seen at Surfers. The STP crew had the offending off and a new one in place in less than 15 seconds and Cannon was on his way again but had no hope of catching Lawrence, or the others who passed him.
Matich won, at a record 103.59 mph and set a 104.8 mph lap record. Gardner was second, 9.6 sec in arrears, and then came McRae, nearly a minute back, but Tasman Champion nevertheless because his only rival, Allen, had retired. Lawrence, a lap down, was fourth, and another lap back came Muir and Guthrie, followed by Cannon and Max Stewart.
For the second year in a row the Cup stayed in New Zealand.
Result
Driver
Nat
Car

Laps

Time
1
Frank Matich
Aust
McLaren

M10B /

Repco 4940cc

V8

50
57m 55.5s
2
Frank Gardner
Aust

Lola T192 / Chevrolet 4988cc V8

50
58m 05.1s
3
Graham McRae
NZ
McLaren

M10B /

Chevrolet 4988cc

V8

50
59m 03.3s
4
Graeme Lawrence
NZ
Ferrari 246T

/ Ferrari

24

17

cc

V6

49

5
Bob Muir
Aust
Mildren

/

Waggott 1

992

cc

4cyl

4

8

6
Malcolm Guthrie
UK

Lola T192 / Chevrolet 4988cc V8

4

8

7
John Cannon

UK

Lotus

70 /

Ford 4997cc

V8

48

8
Max Stewart
Aust
Mildren

/

Waggott 1

992

cc

4cyl

47

Ret
Niel Allen
Aust
McLaren

M10B /

Chevrolet 4988cc

V8

8
Water Hose

Col Green
Aust
Brabham

BT16 /

Climax 2

495

cc

4cyl

Frank Radisich
NZ
McLaren

M10A /

Chevrolet 4988cc

V8

Keith Holland
Aust
McLaren

M10B /

Chevrolet 4988cc

V8

Dave McConnell
Can
Lotus

69 /

Ford 1598cc

4cyl

DNS
Kevin Bartlett
Aust
Mildren

/

Chevrolet 4988cc

V8

Accident
Fastest Lap: F Matich 1 min 8.7 sec (Record)