1968 Round 4
Teretonga

Round Four: TERETONGA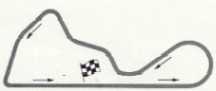 11th Teretonga International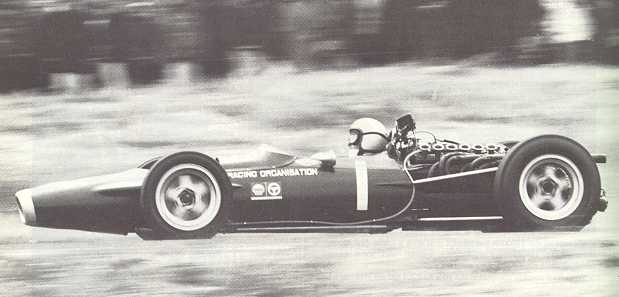 Fifth win at Teretonga for McLaren in the BRM.
Bruce McLaren, who makes a habit of winning at the Southland Sports Car Club's circuit, claimed Teretonga International honours for the fifth time on 27 January and saved face, to some extent, for BRM by getting his V12 across the line 10.6 sec ahead of Jim Clark. His racing winning 85 mph average was much less spectacular than Clark's 130 mph off-course excursion at the start of the 53rd of the sixty laps. The Flying Scot had comfortably dominated the race until this fateful moment when his Lotus-Cosworth V8 landed off-square from a bump and slithered to the infield. McLaren, who earlier had been lying fourth, had already profited from time-consuming and almost simultaneous spins by Chris Amon and Frank Gardner. Now he found himself automatically elevated from second to first spot and held it although Clark, after pitting to have the drooping nose cowling of his car removed, went like the wind in a vain effort to head him off. Gardner also went the sixty laps for third. Amon and Piers Courage finished a lap back in that order. Then came Denny Hulme in sixth spot with 58 laps completed.
Practice began in off-hand fashion two days before the race. The BRMs were absent. Clark was not anxious to put too many miles on his only engine and some of the locals had not reached Invercargill. Amon produced the Ferrari and Hulme the Brabham-Cosworth FVA. Courage spent a lot of time getting to know the 1.6-mile course. Things warmed up in the afternoon. After a few laps Clark circulated at 93.75 mph. Gardner was only 0.16 sec slower, while Hulme and Courage were about 2 sec behind him. The BRMs appeared and McLaren did a few laps in one, while Tim Parnell sent out Graeme Lawrence in the other as Rodriguez was absent.
Qualifying trials were held next morning. Amon and Clark managed 61.0 sec (96 mph), the latter's chances of improving being discounted when he slid off the track, where he remained for the rest of the session. The Ferrari crew had changed engines overnight. The BRMs were reasonably competitive, McLaren returning 62.0 sec (94.5 mph) and Rodriguez 61.2 sec (94.19), the same as Gardner. Hulme, plagued by an intermittent engine miss, did 64.0 sec (90.7) which did not compare very favourably with the 61.6 sec (93.57) of Courage with his similarly powered McLaren. Palmer, as is usually the case, was fastest local with 65.0 sec (89.69 mph) and Lawrence was fastest 1.5 with 66.2 sec. McDonald crashed during qualifying, damaging his suspension and chassis and took no further part in the meeting.




Gardner (Brabham-Alfa Romeo) finished third. Heavy overnight rain persisted on race morning and was coming down in torrents as last-minute preparations were made to the bigger Tasman cars for their ten-lap preliminary. Firestone produced rain tyres for Clark, Amon and Palmer. Gardner would have liked them also, could not get them, so scratched from his preliminary. Dunlop armed Courage with some elderly narrow-width tyres that proved eminently satisfactory.

In the course of the warm-up lap, water flooded the electrics of the Ferrari. It refused to fire on more than two or three cylinders, so was wheeled away. Clark ran out winner at 73.72 mph, having cut out the sixteen miles in 13 min 2.4 sec. Courage drove up to his name for second in 13 min 22.8 sec. Rodriguez and Hulme were next. McLaren, who held fourth place for five laps, ran off the track with a sticking throttle and wrecked the right-hand front end of his V12. There was a hurried rebuild to ready it for the Tasman race.

Young David Oxton upset all calculations by running away with the second heat in rather better, but not good, weather conditions. His time of 13 min 21 sec was less than Courage's. Old hands, Bill Stone and Lawrence were next in line, making it a Brabham-Ford benefit.

The Tasman race grid should have been arranged on the basis of race times in the heats, which meant that Clark, Oxton, Courage and Rodriguez would have shared the front row. But this apparently was not to the organisers' liking and they lined up the field on the basis of the previous day's qualifying lap times, somewhat to the disgust of Clark and Courage. The front row comprised Amon, Clark, McLaren and Gardner. Courage found himself in the middle of the second row, between Rodriguez and Hulme, while Oxton was on the outside of row 3 with Palmer, Lawrence and Ken Smith inside him. Next came Dawson, Stone and McRae; Faloon, Radisich, Yock and Batchelor; with Levis, Nicholson and Harvey at the rear. The rain had ceased and all were on 'dry' tyres.

There was a copybook start, the front row going off as one man, although the superior 'lift' of the Lotus Cosworth V8 won Clark the lead into the Loop. He completed the first lap with Gardner, McLaren, Courage, Rodriguez, Amon, Hulme, Palmer, Oxton and Lawrence behind him. At the end of lap 3 he had 2.2 sec on Gardner, and Amon had moved up to be third ahead of McLaren. Smith didn't complete the first lap and retired with overheating problems. Yock quit on lap 5 with ignition problems and Harvey followed the next lap with valve gear damage.

On lap 7 Amon was second, but Clark was drawing away. At ten laps he had a 10 sec lead over the Ferrari and even then Amon looked as though he might be content to settle for second in this race. Gardner was comfortably third, some 6 sec ahead of McLaren, who was drawing away from Rodriguez. Next in line was Hulme, who had finally sorted out Courage, although not easily. Eighth placed Palmer was lapped by Clark on the twelfth lap. McRae's twin cam put a leg out of bed after a crankshaft broke on lap 18.




David Oxton (1.5 Brabham-Ford), first resident finisher. The sky looked threatening again and it may have been this that stimulated Clark to set a new lap record of 61 sec (94.5 mph). In any event, soon after he had done so, rain began to fall, but, with seventeen laps completed the positions remained the same, although the pace slackened. Two laps later, Clark doubled Courage, who was lying seventh, and had built up an 18 sec lead over Amon, who had 6 sec on Gardner. McLaren was 15 sec ahead of Rodriguez. Palmer was running much on his own, while behind him were Lawrence, Oxton, Red Dawson in the 2.5 Brabham-Climax and, making up the 1.5 Brabham-Ford trio, Roly Levis, in fairly tight formation but well out of the main picture.

Rodriguez disturbed the pattern when he pitted at the end of lap 22 with a broken V12 engine, resulting from a holed radiator. Hulme then lost his fifth position with a stop to tighten a top link in the rear suspension of the Brabham-Cosworth FVA. Courage became fifth, 55 sec behind McLaren. Hulme resumed in eighth place and quickly forced his way through, although Courage maintained his advantage to the end. The rain played havoc among the local runners. First Lawrence and then Palmer were delayed by spins and Oxton became first New Zealander, a position he was to hold to the end. Stone had a camshaft go on lap 31.

The more seasoned men were next to fall foul of the weather. Amon lost the Ferrari at the Esses. Gardner, close behind, spun also, coming to rest by Amon. By the time they both resumed, McLaren was running second. The order became Clark, McLaren, Amon, Gardner, Courage, Hulme, Oxton, Palmer, Lawrence and Levis. It was not Amon's day. The V6 went off-song, then on lap 45 he had a spin and that was all Gardner needed to gain third position.

The final upset came when Clark blipped his throttle to clear his engine as he started his 53rd lap well in front. The off-course excursion and pit stop that resulted put a surprised McLaren in front and he went on to take the flag 10.6 sec ahead of the noseless Lotus-Ford V8. The order behind remained unchanged.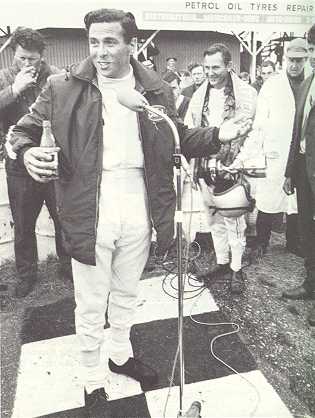 Probably one of the last pictures to be taken of Clark in New Zealand
as he makes a speech after coming second.
11th Teretonga International
Date: 27th January 1968
Venue: Teretonga Park
60 laps of 2.575kms (154.49kms)
| | | | | | |
| --- | --- | --- | --- | --- | --- |
| Result | Driver | Nat | Car | Laps | Time |
| 1 | Bruce McLaren | NZ | BRM P126 / BRM 2493cc V12 | 60 | 68m 17.9s |
| 2 | Jim Clark | Scot | Lotus 49T / Cosworth 2491cc V8 | 60 | 68m 28.5s |
| 3 | Frank Gardner | Aust | Brabham BT23D / Alfa 2472cc V8 | 60 | 69m 09.5s |
| 4 | Chris Amon | NZ | Ferrari 246T / Ferrari 2417cc V6 | 59 | |
| 5 | Piers Courage | UK | McLaren M4A / Cosworth 1600cc 4cyl | 59 | |
| 6 | Denny Hulme | NZ | Brabham BT23 / Cosworth 1600cc 4cyl | 58 | |
| 7 | David Oxton | NZ | Brabham BT16 / Ford 1498cc 4cyl | 56 | |
| 8 | Jim Palmer | NZ | McLaren M4A / Cosworth 1600cc 4cyl | 56 | |
| 9 | Graeme Lawrence | NZ | Brabham BT18 / Ford 1498cc 4cyl | 56 | |
| 10 | Roly Levis | NZ | Brabham BT18 / Ford 1498cc 4cyl | 54 | |
| | Bryan Faloon | NZ | Brabham BT4 / Climax 2495cc 4cyl | | |
| | Frank Radisich | NZ | Lotus 22 / Ford 1750cc 4cyl | | |
| | Red Dawson | NZ | Brabham BT7A / Climax 2499cc 4cyl | | |
| | Tony Batchelor | NZ | Brabham BT6 / Ford 1498cc 4cyl | | |
| | John Nicholson | NZ | Lotus 27 / Ford 1498cc 4cyl | | |
| Ret | Bill Stone | NZ | Brabham BT6 / Ford 1498cc 4cyl | 31 | Engine |
| Ret | Pedro Rodriguez | Mex | BRM P126 / BRM 2493cc V12 | 21 | Engine |
| Ret | Graham McRae | NZ | Brabham BT6 / Ford 1498cc 4cyl | 18 | Engine |
| Ret | Grahame Harvey | NZ | Brabham BT21 / Ford 1498cc 4cyl | 6 | Engine |
| Ret | Peter Yock | NZ | Lotus 33 / BRM 1998cc V8 | 5 | Ignition |
| Ret | Ken Smith | NZ | Lotus 41 / Ford 1498cc 4cyl | 0 | Overheating |
| DNQ | Don Macdonald | NZ | Brabham BT10 / Ford 1498cc 4cyl | | Accident |
Fastest lap: J. Clark, 61 sec (94.5 mph)* *record