1967 Season

THE 1967 SERIES
When the BRM team cleaned up the 1966 Tasman series, drivers Graham Hill, Jackie Stewart and Richard Attwood winning seven of the eight races with obsolescent Formula I cars with V8 engines stretched to 1916cc, it became obvious that the current concept of the Tasman Formula was no longer valid. The idea underlying the 2.5-litre, unsupercharged, 'avgas', no weight restriction regulations was to produce a form of motor racing which would give New Zealand and Australian drivers a reasonable chance of competing on favourable terms with entrants from Europe. In framing the regulations, those responsible had in mind the FPF four-cylinder Coventry Climax engine and, indeed, this was the mainstay of Tasman racing until the BRM team appeared on the scene and promptly dispelled all notions of moderately cheap single-seater racing, and local hopes of victories.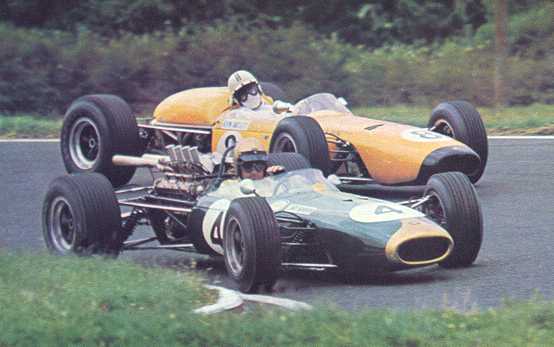 Brabham and Bartlett, both in Brabhams early on at the NZGP at Pukekohe.

Thus it was no surprise when the European contestants returned to the fray for the 1967 series with multi-cylindered engines, all V8s. Again heading the BRM equipe, Tim Parnell produced three BRMs identical in almost every respect with those that had been so successful in 1966, but with engines stretched still further to 2136cc and reputedly developing 260 brake horsepower. The chassis was essentially P61s with any excess weight taken away and these Mk II versions were labeled P261s. Jim Clark, the 1965 Tasman Champion, who notched only one win in 1966 with his Climax-engine Lotus, had a 2-litre version of the old Formula I Coventry-Climax V8, and Jack Brabham produced the 2.5-litre Australian built Repco V8 for himself and New Zealand team-mate Denny Hulme. Jack's car was a BT23, while Denis had a BT19.

The V8 engines dominated the series, taking at least first and second in all the Tasman races with the exception of Sandown Park, where Leo Geoghegan finished second in a 2.5 Lotus-Climax. Additionally, V8s finished first, second and third at Levin and first and second at Teretonga Park, races excluded from the Tasman series points this season.

Clark had a fantastic run, taking five firsts and three seconds in his eight starts, and this with an engine estimated to develop about 245 brake horsepower compared with the 260 of the BRMs and 270 plus of the Repco V8s.

The BRM record was but a pale shadow of the 1966 string of successes. The cars in the hands of Stewart, Attwood, Piers Courage and Chris Irwin started sixteen times for nine finishes. Stewart took two firsts and a second from seven starts. Attwood was consistent with two seconds and two thirds from his four starts. Irwin managed a third and a fourth in Australia from three starts and Courage had two starts but finished neither race. However, as had been the case in 1966, the BRM engines proved most trustworthy. The only retirement directly attributable to engine failure was that of Courage at Teretonga Park when a sprocket dropped off the end of a camshaft. Thus BRM retained its, reputation for engine reliability, for the only failure in 1966 was also at Teretonga Park when the engine in Attwood's car broke during one of the training sessions.

For the record, Irwin abandoned at Warwick Farm with fuel injection trouble and Stewart was blasted out of the Lady Wigram Trophy when his car was damaged by a circuit marker kicked up by Clark's Lotus.

BRM's real troubles did not emerge until the Australian section of the series. Crown-wheels proved to be the Achilles heel. They broke up and split gearbox casings and at Lakeside Stewart and Courage were forced to abandon for this reason. The same malady afflicted Stewart at Sandown Park and Longford. For this last race BRM had only one complete gearbox and Irwin had to make do with the one that had broken in Courage's car at Lakeside. Repairs must have been effective for Irwin finished third in this the fastest race in the series.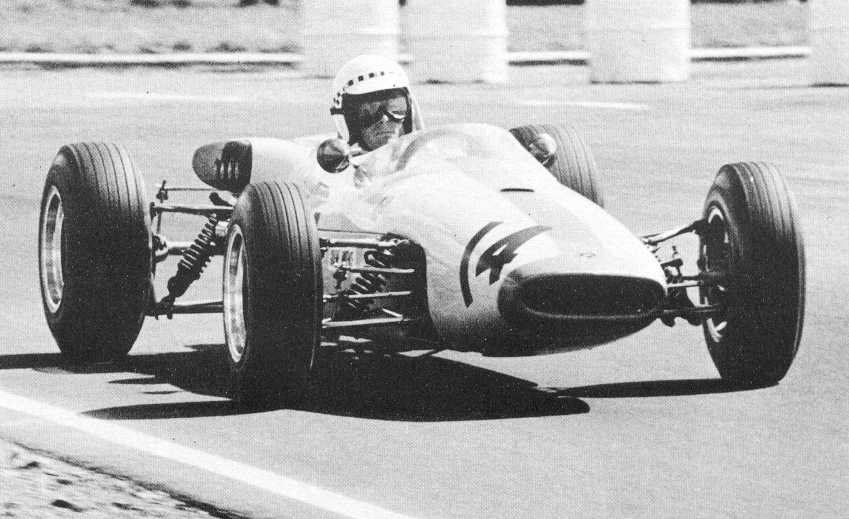 Graeme Lawrence (Brabham-Ford 1.5) surprised a few with his 5th in the NZGP. Longford was the scene of Brabham's only triumph. In the Formula II based lightweight car he won at record speed. This must have been some consolation to the World Champion, although, overall, a fairly poor reward for his efforts. From six starts Brabham gained a first, second and fourth, and made fastest lap in the Lady Wigram Trophy when well out of contention after a lengthy pit stop to remedy overheating troubles.

Hulme's season with the older Formula I Repco-Brabham could have given him no cause for satisfaction. He started eight times for a third and a fourth, although he was most unlucky at Teretonga Park, where the preliminary race showed he had the measure of the international field, but he stripped first gear at flagfall.

Many and various were the troubles in the Brabham camp and it would be difficult to pinpoint a single cause. It may well have been that indiscretion cost Brabham a placing in the New Zealand Grand Prix when he crashed in a vain attempt to overhaul the leaders in the preliminary race, from a comfortable fourth. Hurried repairs before the main event were to no avail, for a driveshaft, out of alignment, broke within five laps. Hulme seemed to be plagued mainly by ignition and fuel injection bother. But, broadly speaking, the 2.5-litre version of the world championship winning Repco V8 was simply not right and the poor results obtained by the Brabham camp seemed to point towards too hasty preparation and experimentation, which latter did not pay off till the end of the series.

It was left to Geoghegan, with his Sandown Park second spot, and Frank Gardner, with the Alec Mildren entered Formula II based Repco-Brabham-Climax, to keep the old four-cylinder Coventry Climax engines in the picture. From seven starts Gardner produced three thirds and three fourths. These placings gave him eighteen points in the championship, to finish on even terms with Stewart and Brabham.

Three times New Zealand champion, Jim Palmer failed to retain his grip on the title, the honour going to the 1.5 Brabham-Ford driver Roly Levis. Palmer, hoping to drive the Tasman Formula V8 Ferrari that John Surtees was to have raced the previous season, set off on the wrong foot when this car did not materialise. He had to make do with his 1966 Formula I Brabham fitted with a very makeshift long-stroke Climax FPF engine. All the same, he notched a fourth and was once again the first New Zealander to finish in the New Zealand Grand Prix. He rounded off his international season with a third at Teretonga Park.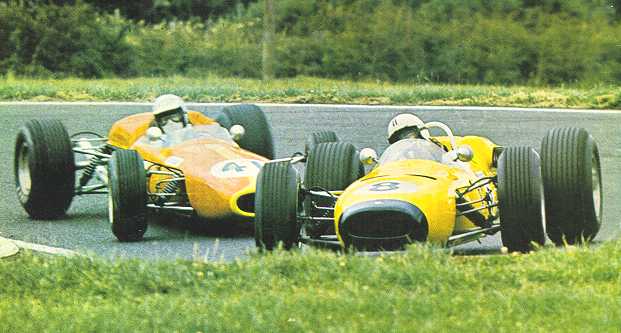 Palmer and Bartlett (Brabhams) contesting a corner at Pukekohe. While the records show that the FPF Climax engine was well and truly outclassed by the V8s, Geoghegan and Gardner demonstrated that, in able hands and given a little luck in the running, it could still win Tasman points. Nor can the effort made by Hulme in the New Zealand Grand Prix be overlooked. Left without his works car, which was taken over by Brabham, Hulme drove the elderly 2.5 Repco-Brabham-Climax, owned by Feo Stanton and previously raced by Palmer and Andy Buchanan. Safely ensconced in third place, and seemingly assured of the position right to the finish, he was forced out only a few miles from the end when a stub axle broke. That Hulme was able to be so prominent was, however, a tribute to his skill rather than to the car.

As far as the rest were concerned, the results only went to show that most drivers of FPF and Ford-engined cars were lucky runners or fitter survivors. A few scored points on sheer ability, Kevin Bartlett in the second Mildren 2.5 Brabham-Climax, for instance, fellow Australian John Harvey with his 1850cc Brabham-Ford, and Graeme Lawrence in his smaller but similar 1.5-litre car.