Fifth New Zealand
Grand Prix 1958


Reg Parnell holding the NZ Motor Cup, having won the 1957 NZ Grand Prix
in his 3½-litre Super Squalo Ferrari.
Ron Roycroft's turn of speed for the first part of the 1957 New Zealand Grand Prix, and Ross Jensen's sterling effort in driving Peter Whitehead's Monza Ferrari into fourth place, had shown that given the cars, there were New Zealand drivers who could hold their own in open company.
And when the field was drawn up for the 1958 event at Ardmore, a whole bunch of New Zealanders were obviously going to be on level terms with the British visitors, and perhaps a bit better than that with the Australians.
The answer came at the end of two qualifying heats of 40 miles each to sort out the starters in the 150-mile final, which was won by Australian Jack Brabham, driving a Coventry-Climax engined works Cooper Formula I. The FPF Climax motor was enlarged by Brabham himself to 2.2 litres, something Coventry-Climax would themselves copy for the 1958 Formula One season. Parts of the engine had been made by Repco in Melbourne and this was the beginning of a very successful partnership which developed over the next few years.
But Brabham was the only visitor in the major placings. He was followed home by Ross Jensen in his 10-day-old buy, the Stirling Moss Maserati 250F, 1956 NZGP winning car, with which he was to burn up the New Zealand courses over the rest of the season.
Next came Roycroft in his regular blue Ferrari, for his best drive and highest placing in the series, then Christchurch driver Pat Hoare in a recently-acquired Ferrari 625. It was basically a 3-litre sports car engine in a 625 GP chassis.
The moving finger had to come right down to fifth position before a visitor was found - Roy Salvadori in the more conventional of the two Connaughts brought to New Zealand.
On the way round, some notable heads had rolled, there had been some thrilling duels both at the top and lower down in the race, and best of all, the organisation's luck had held. The day was clear and hot, and unmarred by any serious accident.
Once again the grand prix organisation had gone overseas for its principal attractions, but for the first time late-model Ferraris and Maseratis were not threatening to dominate the day. The door was wide open, as proved in the race itself.
At the top of the list was a diminutive Englishman, Archie Scott-Brown, who had compiled an impressive record in sports-racing events since 1955 driving the Lister-Jaguar. Though handicapped by an almost useless right arm, Scott-Brown had won many events in open company with the battered green Lister, fitted for the Auckland race with the newly-developed 3.8-litre D-type Jaguar motor.
This bored-out version of the famous 3½-litre, with three double-choke Weber carburettors, gave the car over 300 brake horse power at 5800 rpm and, geared for Ardmore conditions, alarming acceleration.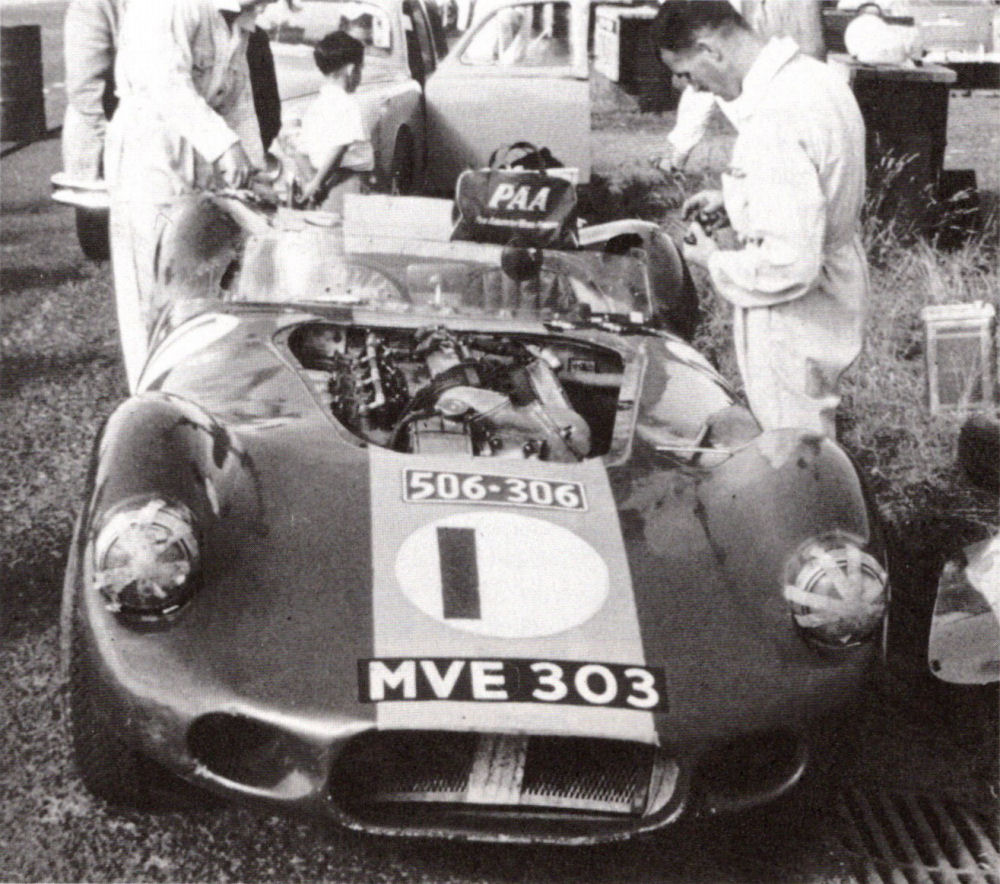 Scott-Brown's Lister-Jaguar.
The two 2.5-litre Connaughts bought by Bernie Eccleston after the break-up of the small privately-owned concern were driven by Roy Salvadori and Stuart Lewis-Evans who, like Scott-Brown, was to lose his life later in the year. The Connaught had been developed over a period of six years around a basically Lea-Francis motor, conforming to the current Formula I requirements at the time the cars came to New Zealand. It had always been at a disadvantage in power, but had carried the flag for Britain while the BRM underwent its lengthy gestation and the Vanwall was being developed.
The most notable win was in the Syracuse Grand Prix of 1955, and of the two cars Salvadori was driving a Syracuse model, B3 - actually the ex-Marr car rebuilt and re-engined, and Lewis-Evans, B7, the wedge-shaped Connaught Dart.
Eventual winner Jack Brabham, by now a works driver for the Cooper concern, for whom he won the Formula II championship in 1957 and spring into world class, was the strongest of the Australian contingent. Finally amongst the Englishmen was a private driver, Dick Gibson, brought his own car to NZ at his own expense to race. He had a Cooper similar to Brabham's but fitted with a normal 1500 cc FPF motor.
Other Australians in the field were Bib Stillwell, again in the ex-Hunt disc-braked Maserati, and Arnold Glass, making his first appearance here in the ex-McMillan, ex-Parnell Super Squalo Ferrari, put together again, after McMillan's little mix-up in Australia. McMillan had crashed the car in Australia and while it was being rebuilt he decided to retire. The car was sold to Glass.
Lex Davison, current Australian champion with a well-performing and fairly modern Ferrari 500, the car that Gaze had raced in NZ during 1955 and 1956, was expected to be well in the running, but by and large the New Zealanders had the edge on the Australians.
Jensen had taken the ex-Moss Maserati away from the ship only 10 days before the race, but even in practice showed that he would be a force to be reckoned with in the final frantic stages.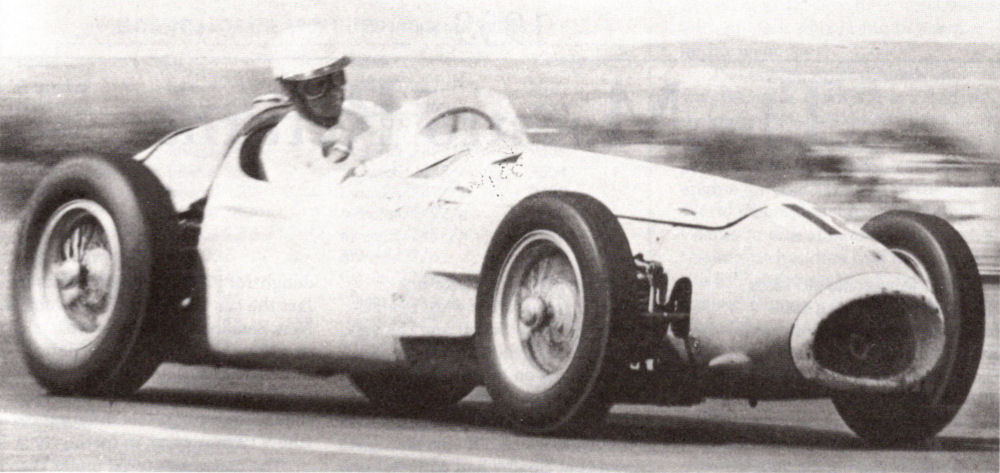 Ross Jensen in the ex-Moss Maserati.
Gavin Quirk had acquired Jack Brabham's disc-braked Maserati 250F. Pat Hoare, heartened by his placing the previous year, had invested in a Ferrari 625 similar to that of Davison, and Roycroft had to be counted as still probably the fastest man round the course.
That quiet, efficient young performer Bruce McLaren, now 19, had shown up splendidly during the 1957 New Zealand season with the 1500 cc Cooper-Climax sports car acquired from Jack Brabham. So splendidly in fact, Brabham had suggested to the Cooper organisation that McLaren should drive a works Formula II machine in the New Zealand Grand Prix. He was given Brabham's car of the year before, fitted with a special 1.7 litre version of the Climax twin-cam FPF.
This was the beginning of an association which brought McLaren up with a rush in the 1958 season, driving under the Cooper aegis in Europe to almost pip Brabham for the Formula II championship, and eventually sign on in 1959 as a full Cooper works driver.
Ron Frost was expected to do even better than before in a bigger car after his years of Formula III. His car was the single-cam prototype FII Cooper.
Frank Cantwell of Christchurch had imported a gleaming Tojeiro-Jaguar, a similar type of car to the Lister, but with the 3½-litre motor. Bob Gibbons was there again with the D-type Jaguar, and most of the starters of the previous year were nominated again. A newcomer was Ron Duncan's blown 1960 cc Connaught, which failed to make a deep impression and didn't start, and the older cars were quite outclassed.
Backing Hoare up from the South Island were Frank Shuter, who had bought the ex-Zambucka Maseratis and completely overhauled them, and Ernie Sprague, who brought the 4CLT Maserati up from Timaru.
Mansel was entered once again. His mount this time was the 'Glen Murray Express' Alfa-Romeo, and Freeman was again at the wheel of his Lago-Talbot. George Palmer entered his Cooper-Bristol. Another new contender was the 3-litre Monza Ferrari owned and driven by Ken Harris of Auckland. This was actually the car in which Wharton had been killed the previous year, but was now completely rebuilt and beautifully prepared.

Ken Harris in the restored Ferrari-Monza that took Wharton's life.
No 500's started this year, indeed only two entered, Hugill's Cooper and Ron Learnan's 'one-off' RGR. Wally Henwood's Cooper 1000 non-started as well.
Practice day made it fairly clear that the main race would be between Brabham and the Connaughts, with Scott-Brown and Jensen chipping in. Brabham smashed the two-year-old Moss record by going round in 1min 26.3s, Lewis-Evans in the Connaught Dart had a lap of 1.26.6, equalled by Jensen, and Scott-Brown appeared to have something in hand at 1.29.2, and his time through the speed trap on the back straight was 140 mph, faster than that of any one else.
Jensen's time gave food for thought, for he was almost two seconds under the Moss record in the same car, and without the benefit of the disc brakes which it had worn in Moss' day.
Roycroft was under the 1.30 mark in the Ferrari, Salvadori got down to 1.29 in the Syracuse Connaught. Others to go impressively were Davison 1.29.6, Stillwell 1.28.4 and McLaren with a steady 1.30.2. Altogether 10 cars beat in practice the fastest lap of the 1957 race, 1m 31s put in by Reg Parnell.
A taste of the toe of the Connaughts was given by Lewis-Evans in the first heat on the day of the race, when at the end of 40 miles he was half a mile clear of Scott-Brown with Roycroft in third place, completing the heat in 30m 37.8s, a shade under 80 mph. Dick Gibson was fourth, and Pat Hoare came in a comfortable fifth after Stillwell had to stop for a plug change.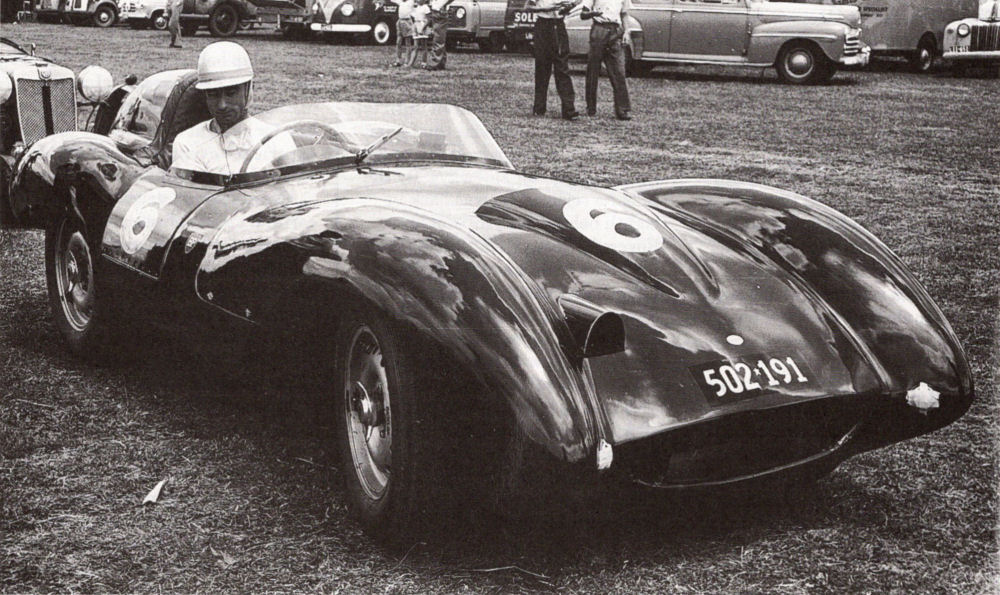 Frank Cantwell (Tojeiro-Jaguar).
The racing was closer in the second heat, though Brabham won comfortably in 29m 50.9s. (80.4 mph) from Salvadori, whose motor was sounding rough, Jensen, McLaren and Davison.
Grid positions were again decided from heats, but this time it was placings, not fastest laps, that counted. The race itself was cut to 150 miles, at which it remained for the remainder of the Ardmore races.
When times and placing in the heats had been sorted out, the grid positions showed Brabham on pole position, the remainder being, in order, Salvadori, Jensen, McLaren, Davison, Lewis-Evans, Scott-Brown, Roycroft, Glass, Gibson, Hoare, Gibbons, Cantwell, Mansel, Shuter, Frost, Watson, Freeman, Sprague, Pierce, Quirk, Stillwell, Harris and Boyd.
Cars which had fallen by the wayside through mechanical defection, or arguments with drums and bales, included the Duncan Connaught, Ron McCutcheon's Normac Special, and Roly Crowther's Lotus.
It was a notable field in another respect. Pierce's Austin-Healey was the last road car to start in a New Zealand Grand Prix, and only the very special Lycoming Special of Ralph Watson made the grade among the specials. This remarkable car, with its flat four aero engine, was a true racing car, even though a "one-off" job, with a performance and consistency envied by many others.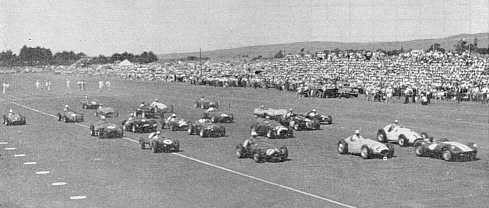 Start of the race
From the starter's flag, Jensen and Roycroft lead briefly before Scott-Brown's Lister-Jaguar took the lead. When the field had sorted itself out, by about lap 3, the order was Scott-Brown, Brabham, Davison, and the Connaughts of Lewis-Evans and Salvadori. Jensen and Roycroft were sixth and seventh.
But where was McLaren?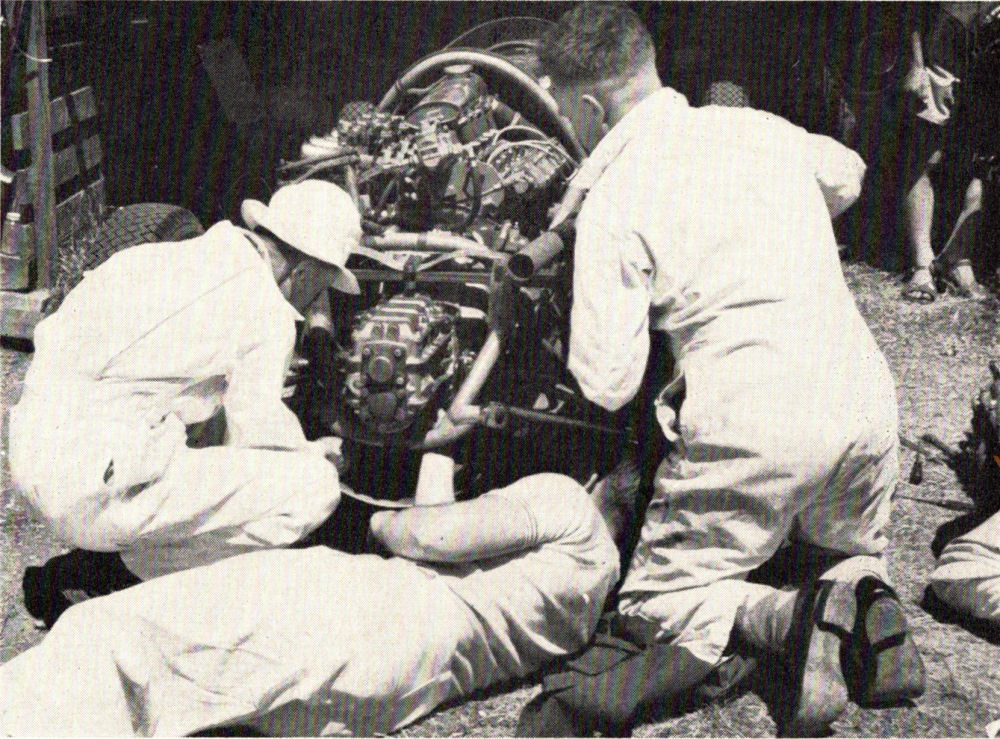 Desperate moments before the start of the race.
Bruce McLaren works beneath the car with Colin Beanland and Harold Bardsley.
He was back in the pits, his crew working feverishly to repair a gearbox fault which had developed in the Cooper fifteen minutes before the start.
One could not accuse officials of delaying the start of the race, but the whole field sat on the grid for several minutes while the course was meticulously inspected for oil or loose metal. Then, reluctantly it seemed, the siren was sounded, motors started, the flag raised, and the field was away without McLaren.
The crowd sat in disappointed silence, then cheered wildly as the roar of the Cooper's motor was heard from the pits, and McLaren rocketed on to the course, still strapping on his helmet, setting off in pursuit of the field with a dazzling display of driving.
He was half a lap behind the leaders, and more attention was concentrated on his chopping-down tactics than on the leaders for a good part of the race.
Out in front, Brabham had slipped by Scott-Brown on the fourth lap, the order otherwise remaining unchanged. After seven laps, Davison had moved up a place and so had Salvadori, these three being clear of a bunch comprising Scott-Brown, Lewis-Evans and Jensen.
A big gap had opened up in the field, headed by Stillwell and Roycroft, and weaving through the field at a steady 1.29 or 1.30 per lap was McLaren, cutting out two or three cars in every lap.
It was on the seventh lap that Brabham started to lap the tail of the field, and within two laps, although McLaren had moved up into the centre of the field, he was forced into the pits with his motor suffering from overheating. A short stop and he was away again, once more cutting down the field methodically.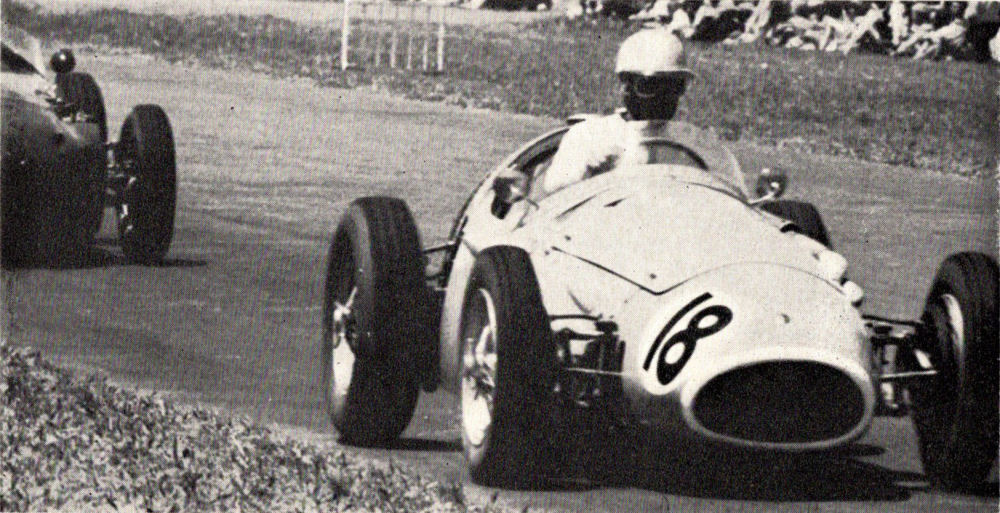 Ross Jensen (ex-Moss Maserati 250F) on his way to second, followed by Tom Clark in the HWM.
By Lap 16, things were getting sorted out, Brabham moving clear of Davison, Jensen, Scott-Brown, Lewis-Evans and Salvadori, though the Connaught Dart driven by Lewis-Evans was beginning to sound sick. Gibbons and Cantwell were having a private battle ahead of the rest of the field.
At this stage, Brabham was getting up to 144 mph along the back straight, and up to the 25th lap there was no change. Then, however, Salvadori was forced into a pit stop - a brief one - with the Syracuse Connaught, by this time running like the proverbial hairy goat, thought it carried on to finish the race in a groggy condition. Ken Harris broke a fuel line and retired, and Cantwell, incredibly, ran out of petrol, losing several places while fuel was run to his car on the Cloverleaf.
At half-way, the race pattern was set, with Brabham 40 seconds ahead of Davison, and Jensen a similar distance back in third place. He and Lewis-Evans engaged in a see-saw duel for a number of laps, with Roycroft sitting in behind waiting for the inevitable. Gibbons had dropped back with falling oil pressure, which later put him out.
Stillwell and Salvadori both visited the pits, and so did McLaren, for a plug change. Davison's Ferrari retired with a blown piston after an impressive run in second place, and Lewis-Evans moved up to second with Jensen close behind.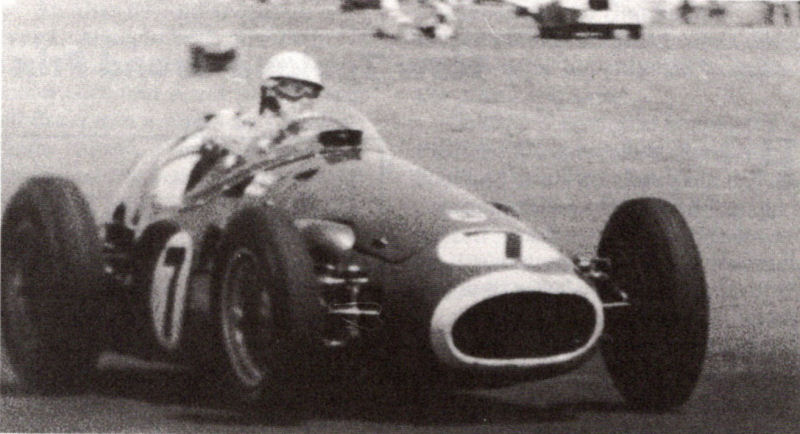 Bib Stillwell (Maserati)
By Lap 50, Jensen had passed Lewis-Evans again, and was hot in pursuit of Brabham's flying Cooper. The pace began to tell on his drum brakes, however, another victim to Ardmore's tight corners. Scott-Brown had been slipping further back in the field and was motoring steadily in fifth place behind Roycroft when he was lapped by Brabham on lap 59. Then McLaren overtook him and challenged Roycroft for fourth place.
Bitter disappointment was in store for three drivers over the final stages of the race, for McLaren's gearbox finally wilted and weakened under the strain, hastily-tightened bolts working loose and compelling his retirement when a place seemed certain.
Lewis-Evans, still handily placed with the Connaught Dart, suddenly found himself out of oil pressure and also pulled out. And finally, in lap 69, the front of Scott-Brown's car went down with a crash on pit straight, and he slewed to a standstill, the right-hand front suspension had collapsed.
Did he have a premonition of his later death? It was a similar suspension failure on a similar car which cost him his life during a sports car race at Spa in Belgium later in the year.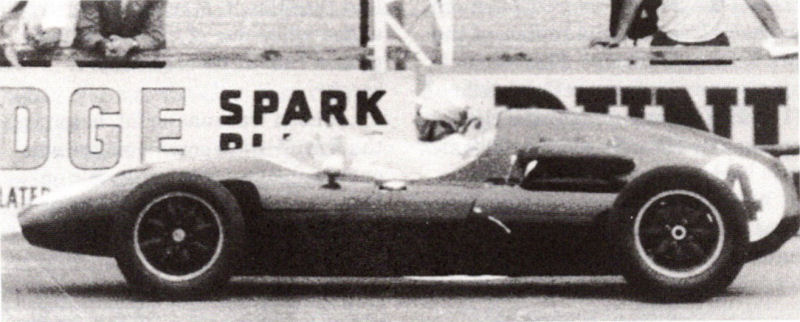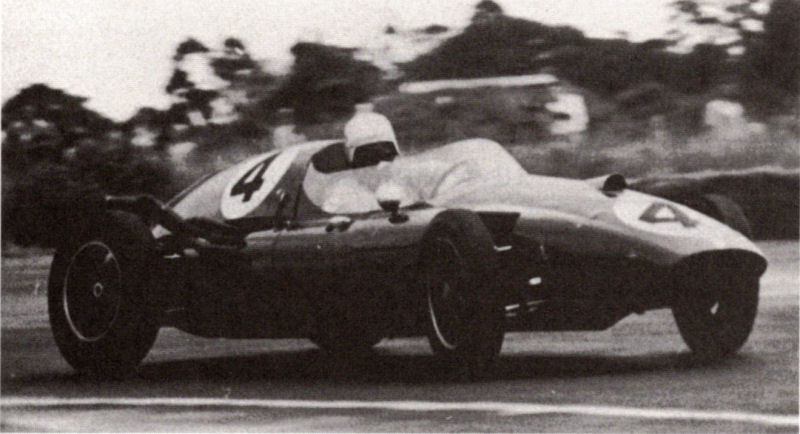 Jack Brabham (Cooper-Climax)
With everything going sweetly in the little Cooper and his brakes in fine order, Brabham motored along in front to win from Jensen and Roycroft. Through the batch of retirements Pat Hoare, who had been driving steadily and inconspicuously right through, was able to cruise into fourth place ahead of Salvadori's ailing Connaught.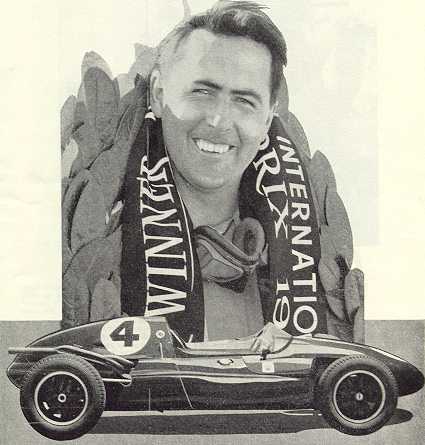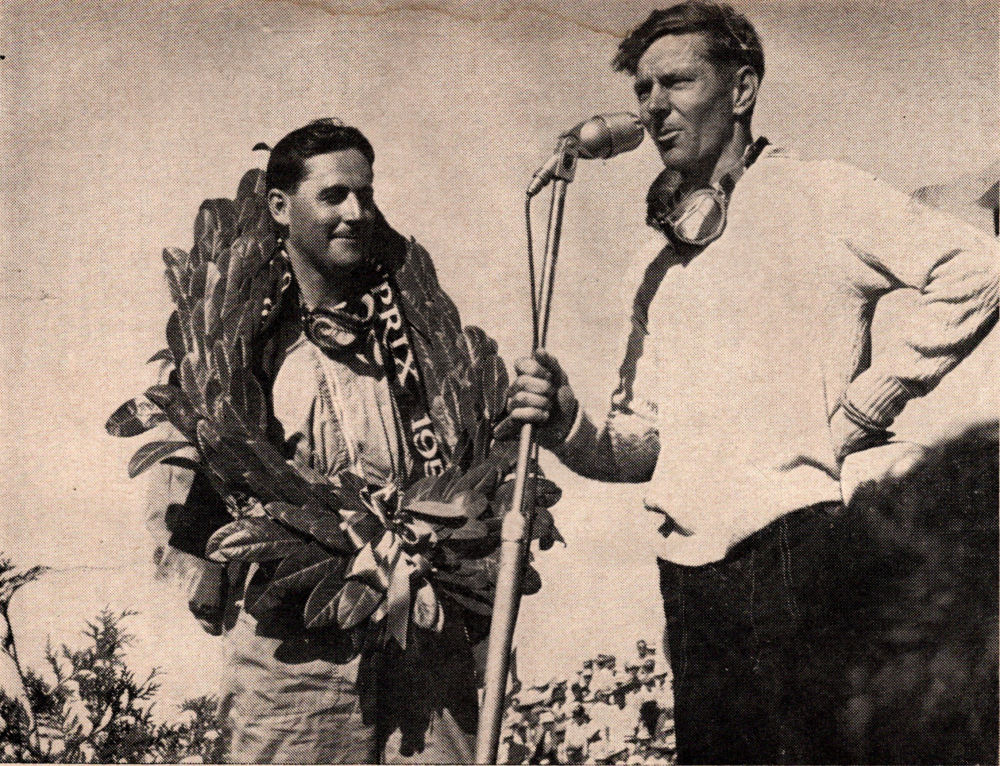 Jack Brabham winner of 1958 Grand Prix. Ross Jensen at the microphone.
| | | | | | |
| --- | --- | --- | --- | --- | --- |
| Result | Driver | Nat | Car | Laps | Time |
| 1 | Jack Brabham | Aust | Cooper T43 / Climax 2249cc 4cyl | 75 | 1h 53m 24.3 |
| 2 | Ross Jensen | NZ | Maserati 250F / Maserati 2497cc 6cyl | 75 | 1h 53m 28.2 |
| 3 | Ron Roycroft | NZ | Ferrari 375 / Ferrari 4493cc V12 | 75 | 1h 53m 44.6 |
| 4 | Pat Hoare | NZ | Ferrari 625 / Ferrari 2996cc 4cyl | 75 | 1h 54m 40.7 |
| 5 | Roy Salvadori | UK | Connaught B / Alta 2470cc 4cyl | 75 | 1h 54m 42.6 |
| 6 | Dick Gibson | UK | Cooper T43 / Climax 1496cc 4cyl | 75 | 1h 54m 56.4 |
| 7 | Ron Frost | NZ | Cooper T41 / Climax 1498cc 4cyl | | |
| 8 | Bib Stillwell | Aust | Maserati 250F / Maserati 2497cc 6cyl | | |
| 9 | Johnny Mansel | NZ | Alfa-Romeo Tipo B / Alfa 2905cc 8cyl s/c | | |
| 10 | Ralph Watson | NZ | Lycoming Special / Lycoming 4733cc 4cyl | | |
| 11 | Gavin Quirk | NZ | Maserati 250F / Maserati 2497cc 6cyl | | |
| 12 | Arnold Glass | Aust | Ferrari Super Squalo 555 / Ferrari 3431cc 4cyl | | |
| 13 | Frank Shuter | NZ | Maserati 8CLT-50 / Maserati 2984cc 8cyl s/c | | |
| 14 | Frank Cantwell | NZ | Tojeiro 3/56 / Jaguar 3442cc 6cyl | | |
| 15 | Allan Freeman | NZ | Lago-Talbot 26C / Talbot 4485cc 6cyl | | |
| Ret | Archie Scott-Brown | UK | Lister 57/1 / Jaguar 3781cc 6cyl | 72 | Suspension |
| Ret | Bruce McLaren | NZ | Cooper T43 / Climax 1750cc 4cyl | 71 | Gearbox |
| Ret | Ernie Sprague | NZ | Maserati 4CLT-48 / Maserati 1498cc 4cyl s/c | 71 | Engine |
| Ret | Stuart Lewis-Evans | UK | Connaught B / Alta 2470cc 4cyl | 63 | Oil Pressure |
| Ret | Bob Gibbons | NZ | Jaguar D-type / Jaguar 3442cc 6cyl | 44 | Oil Pressure |
| Ret | Lex Davison | Aust | Ferrari 500 / Ferrari 2996cc 4cyl | 40 | Piston |
| Ret | Ken Harris | NZ | Ferrari 750 Monza / Ferrari 2999cc 4cyl | 25 | Fuel Line |
| DNS | Jim Boyd | NZ | Cooper-Bristol Mk I / Bristol 1971cc 6cyl | | Engine |
| DNS | Graham Pierce | NZ | Austin-Healey 100S / Austin 2660cc 4cyl | | Engine |
| DNS | Ron Duncan | NZ | Connaught A / Lea Francis 1964cc 4cyl s/c | | |
| DNQ | Roly Crowther | NZ | Lotus 11 / Climax 1098cc 4cyl | | |
| DNQ | Wally Henwood | NZ | Cooper Mk IV / Vincent 998cc V2 | | |
| DNQ | Rob Hugill | NZ | Cooper Mk VIII / JAP 1098cc V2 | | |
| DNQ | Ron Learnan | NZ | RGR / Norton 498cc 1cyl | | |
| DNQ | Reg McCutcheon | NZ | Normac Special / Chevrolet 3870cc 6cyl | | |
| DNQ | Merv Neil | NZ | Cooper T39 / Climax 1498cc 4cyl | | |
| DNQ | George Palmer | NZ | Cooper-Bristol Mk II / Bristol 1971cc 6cyl | | |
| DNQ | Lionel Bulcraig | NZ | Northland Special / Mercury 4005cc V8 | | |
| DNA | Tom Clark | NZ | Ferrari Super Squalo 555 / Ferrari 3431cc 4cyl | | |
| DNA | Jack Malcolm | NZ | Cooper-Bristol Mk II / Bristol 1971cc 6cyl | | |
| DNA | Johnny Buza | NZ | HWM / Alta 1960cc 4cyl s/c | | |
Brabham turned in the fastest lap of the race at 1m 28.0s, or 82.4 mph, and completed the course in 113m 24.3s, an average of 79.3 mph.