Contacts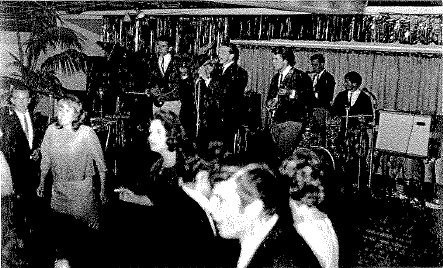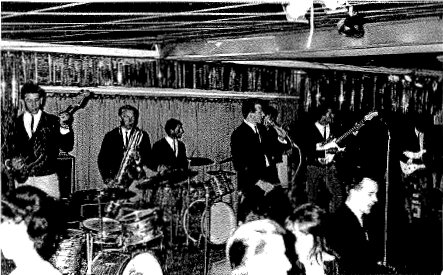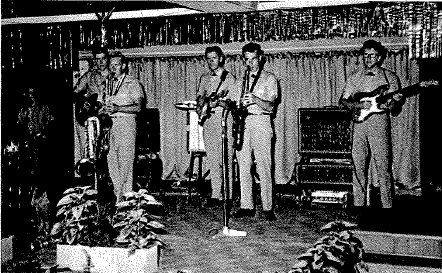 Line-Up:
John Walker "Mac" (Lead Guitar)
Noel Morley (Tenor, Baritone & Soprano Sax)
Melvin Gardiner (Rhythm Guitar / Vocals)
Mike Angland (Bass Guitar)
John Dick (Drums)
John Walker, also known as "Mac", formed Johnny and the Contacts in 1960. They hailed from the Hawkes Bay. John had previously been a member of another Hawkes Bay band, Teddy and the Bears.
The Contacts were the resident band at the Top Hat dance hall in Napier. Paul Gitmans, on sax, joined around six months later, when Bernie Meredith, manager of the Top Hat, wanted a bigger sound for his venue. Bernie to some degree managed the Contacts, although the boys mainly managed themselves.
In the early years, the band was well known for their strong sax sound, and powerful guitar teamwork. Noel on occasion used his baritone sax and an E flat soprano sax to great effect. "Beat Girl" and "Night Train" stood out as key sounds of the group. The band was an icon to the rest of the North Island for their quality sound. Top New Zealand band and artist promoter, Benny Levin, often stated "pick up the Top Hat venue, with its band, the Contacts, set them up anywhere in New Zealand, and you would have a success story.
Early in 1963, Melvin Gardiner and John Dick, both left the group at pretty much the same time. This left the group short of two key men. Melvin headed to Australia and John Dick joined Max Merritt and the Meteors. These departing musicians were replaced by John Lindsay on rhythm guitar and Craig Alexander on drums. Both John and Craig had previously been members of the Rockets.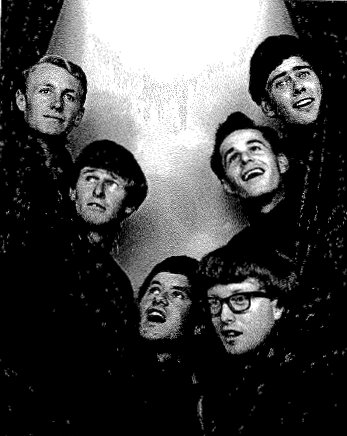 Early Promo, L to R: Noel Morley, Garry Martin, John Lindsay, John Walker, Paul Gitmans and Max Hyde
A few months later, Garry Martin joined the group as vocalist. This again was at the insistence of Bernie Meredith. About a year after John Dick had left, Mike Angland also decided to head south and join him in Max Merritt and the Meteors. Max Hyde took over on bass guitar. Max had previously had a short stint playing bass in the Devils.
While still retaining it's strong sax sound, the band also began to develop a strong vocal image, with four strong singers, this was a good move for a sixties band. The boys moved with the times and increased their popularity even more. By the end of 1964 Mike Angland had left the Meteors and was back in Hawkes Bay. This was good timing as Max Hyde was about to leave and join a mate and head to Australia.
Also at the end of 1964, Craig Alexander left to form the Yes Men. His place on drums was taken by Gary Bothwell. When "Mac" Walker left around 1966, the name of the group was shortened to just the Contacts. "Mac" left to pursue a professional music career at the famous Butlands holiday camps in the UK. His place on lead guitar was taken by Kepa Toa. At that point, as no one else wanted the job of running things, John Lindsay took the band over.
The Yes Men consisted of Craig Alexander on drums, Mike Liley on vocals, Derek Fitzgerald on bass guitar, harp, vocals, keyboards and anything else playable, Maurice Smith on rhythm guitar and a very young Gordon Wong on lead guitar. Maurice remained in the band for a short time only and was replaced by bass player Rudi Pederson, from the Rockets, on rhythm guitar. This band was resident at the Liverpool Lounge in Havelock North during the Beatles era. Gordon was probably the first guitarist in Hawkes Bay to get the exact sound of Hank Marvin of the Shadows, due to his Fender Stratocaster and AC30 Vox amp. Most other New Zealand musicians were using poor quality New Zealand made guitars and amps, due to the then Government's reluctance to allow American and British products into the country.
Meanwhile back with the Contacts, John Lindsay's brother David, worked as a tech in the local 2ZC radio station (with DJ Keith Richardson) and he arranged for many tracks to be recorded (just covers) in their studios and also some live recordings at the Top Hat over a period of time. For more information of the career of David Lindsay, refer to David's story. A notable Top Hat live recording was made during the "One Millionth Patron" celebration. Two of the songs from that recording can be found on two various artist CD's. "Treat Her Right" can be found on "Get The Picture" CD and "When I Was Young" can be found on the "Out From The Cold" CD.
Melvin Gardiner returned to Hawkes Bay after a year or two, but on finding no place for himself in the band, he started his own group, the Messengers. They consisted of Paul Gitmans' brother Hans on vocals, Eric Coombes on keyboards, Gavin Mather on drums, Chris Collier on bass guitar, ???? on lead guitar and Melvin on rhythm guitar. They established themselves as another class Hawkes Bay group and had a reasonable following.
Derek Fitzgerald joined the Contacts when the Yes Men folded, playing keyboards, vibes and also contributing to vocals. Paul Gitmans left soon after Derek joined, to pursue a business opportunity in Auckland.
The Contacts were resident at the Top Hat ballroom for ten years, from 1960 to 1970. They shared this venue with the very popular Ernie Rouse Trad Jazz Band. During those ten years, they backed just about every major New Zealand artist or duo, that came into the music scene. The Contacts also played at the Napier youth club dance on Sundays at the MacLean Park stadium, which was attended by thousands of kids and parents.
The Contacts final few performances were at the Down Town Club in Wellington. Roy Young, owner of the club, had contacted Kepa Toa, asking him if the band would play alongside the developing Quincy Conserve, who would shortly take on full time residency at the club. At that early stage, Quincy Conserve had a very limited repertoire, and he needed another band to help fill in the gaps. They did about three weekends at the club, consisting of Friday, Saturday and Sunday nights, before driving back to Hawkes Bay after the Sunday night show, in order to commence their day jobs on Monday morning.
After the Contacts ended, Gordon Wong from the Yes Men, joined up with Mike Angland, Noel Morley, and Craig Alexander, and several other aspiring musicians to put together a new band for the Top Hat. They called themselves Prima Brass, and like their name, they had a strong brass line up, but did not have much vocal strength. The era of the Top Hat, and places like it was ending, as other entertainment options were pulling away the crowds. For about 6 months, Murray Waite filled in for Craig in the Prima Brass, while he was away working a daytime job elsewhere.
As a side note, one of the various artist CD's I mentioned earlier states that Raice McLeod was also a member of the Contacts before joining up with Quincy Conserve. As does John Dix in "Stranded In Paradise". I have been assured by Raice himself that this information is incorrect. He was never a member of the Contacts.